We don't need a special day to honor Dad, but when it rolls around each year, you better believe we do it big. There's no shortage of things to do, see, eat, drink and experience in and around Newport this year with the man who means the most. From a special cocktail cruise to an enchanting wine garden overlooking the Atlantic, these memorable happenings are the perfect way to spoil Dad on his special day. 
ENGAGE HIS ADVENTUROUS SIDE
1
BY BOAT
Treat your #1 guy to two of life's greatest joys: cocktails and a harbor cruise. Climb aboard the 80-foot pilot schooner, Adirondack II for a leisurely, scenic sail through Newport Harbor with a Newport Dark and Stormy in hand: Newport's own Thomas Tew's Rum and Rhode Island's Yacht Club Ginger Beer, developed to go with Pirate Tew's rum. 
2
BY RAIL
If Dad is an adventurer at heart, then you'll be right on track at Rail Explorers. These pedal-powered rail bikes offer an unforgettable scenic ride along historic Aquidneck Island and spectacular Narragansett Bay on custom built pedal-powered vehicles. Explorer rail bikes have four steel wheels, hydraulic disc brakes, pedals for each seat, and are comfortable, fun and easy to ride. You'll bond while pedaling in tandem among some of Aquidneck Island's most scenic sights.
3
BY VINTAGE CAR
Have Dad spend his day relaxing in comfort and vintage style, while learning about some of Newport's most famous attractions with Newport Classic Car's curated automobile tours and Newport Jaguar guided, private tours.
Newport Classic Car Tours: Experience an intimate look of Newport, on your own terms, and rent a 1962 Ford Thunderbird, or opt for a guided tour learning local knowledge along the way in a flashy antique car.
Newport Jaguar Tours: opt for the Grand Tour to learn about many of Newport's notable attractions, including; Ocean Drive, Bellevue Avenue, the beaches and more.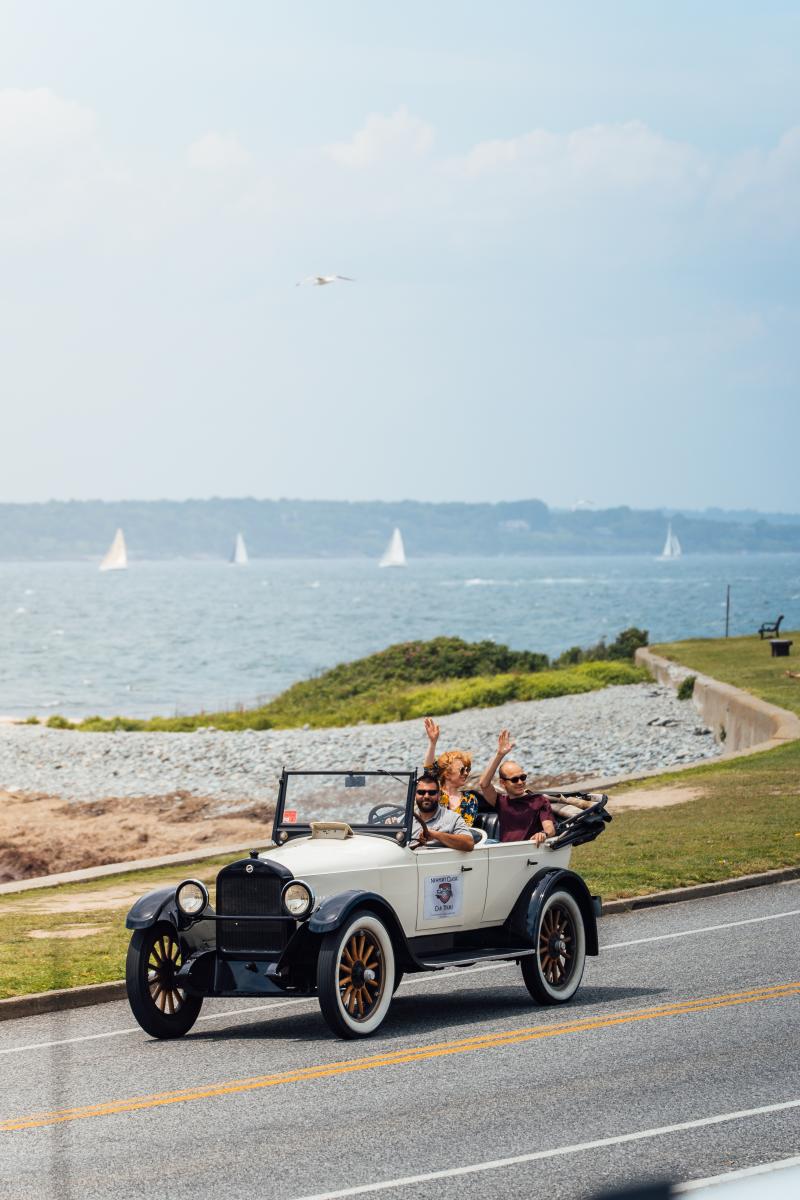 4
BY HELICOPTER
Take to the air with Newport Helicopter Tours for an exhilarating experience with aerial views of mansions, the bay, ocean drive, and more that Dad won't forget. All dads fly free on Father's day with a minimum of two passengers.
1
Newport's Sporting Ticket
Where:

The Sailing Museum, Audrain Automobile Museum and International Tennis Hall of Fame

When:

June 1st, 2022 - December 31st, 2022

Cost:

$39
The Sailing Museum, Audrain Automobile Museum and International Tennis Hall of Fame have teamed together to provide access to all three of Newport, R.I.'s sports museums with just one ticket.  Newport's Sporting Ticket is now available for purchase online, click here, and in person at all three participating museums.
Visitors can experience Newport's storied traditions in sailing, tennis and automobiles for the price of just two museum admissions at $39 per adult. Ticket purchasers will have 90 days from the date of sale to access all three museums through the end of 2022. 
MORE DETAILS
2
Newport to Bermuda Race
Where:

NEWPORT HARBOR

When:

JUNE 17TH, 2022
Newport is synonymous with sailing, so it's only fitting that we kick start summer with the return of a renowned ocean race. The Newport Bermuda Race, the oldest regularly scheduled ocean race dating back to 1906, and one of just two of the world's regularly scheduled races held almost entirely out of sight of land, returns to our Classic Coast on Friday, June 17, 2022. 

3
Father's Day Cocktail Cruise
Where:

Coastal Queen Cruises, from Newport

When:

JUNE 19th, 2022 from 6:15 PM - 7:30 PM

Cost:

Adults: $35 - Seniors: $32 - Military $32
Celebrate Dad on the June 19th Father's Day Cocktail Cruise on the Coastal Queen. Enjoy a complimentary bartender's special cocktail while viewing the many beautiful sights along the way like Rose Island Lighthouse, Fort Adams State Park, Clingstone, Hammersmith Farm and so much more. The boat has a cozy and weatherproof main salon and a covered top deck with side curtains for wind. Cruise is 75 minutes, departs at 6:15pm from Bowen's Wharf, Newport and tickets are $35.
MORE DETAILS
4
Burgers & Brews
Where:

Top of Newport at Hotel Viking

When:

JUNE 19th, 2022 from 12:00 PM to 4:00 PM
Join us for Burgers & Brews at Top of Newport this Father's Day! Take dad to the Top for an evening of celebrating fathers & fun! Dad will love playing a game of putt while sipping an iced cold beer or Gin and Tonic. We will be offering classic American barbecue off the grill for the afternoon.
MORE DETAILS
5
BRISTOL FOURTH CONCERT SERIES BEGINS
Where:

INDEPENDENCE PARK

When:

JUNE 19th, 2022 at 3:30 PM, 6:30 PM, and 7:45 PM
Bristol Fourth of July Concert Series in Independence Park, Bristol starting on Father's Day, June 19th, at Independence Park. 
Father's Day Concert Schedule:
3:30 PM: East Bay Wind Ensemble
6:30 PM - Trinity
7:45 PM - Andre Arsenault & Friends
6
Father's Day Cookout
Where:

Newport Craft Brewing & Distilling Company

When:

JUNE 19th, 2022 from 1:00 PM to 5:00 PM
Best way to celebrate dad? Bring him to the Newport Craft patio for our Father's Day Cookout! From 1:00 PM - 5:00 PM for delicious food from Wally's Wieners, an Ambree beer release, and the chance to win some awesome prizes. New Balances and cargo shorts encouraged.
MORE DETAILS
7
Cars & Coffee
Where:

Fort Adams State Park

When:

JUNE 18th, 2022 from 6:00 PM - 8:00 PM
Join Audrain Auto Museum at Fort Adams State Park for an evening of cars and coffee overlooking the waterfront. 
8
CA' DEL BOSCO WINE GARDEN AT THE CHANLER
Where:

THE CHANLER AT CLIFF WALK

When:

JUNE 18th & 19th, 2022 from 1:00 PM - 6:00 PM

Cost:

VARIES
Ca' del Bosco and The Chanler have come together for an enchanting collaboration showcasing Italian renaissance charm and seaside beauty.

A family of internationally renowned luxury sparkling wines from, Erbusco, Franciacorta, and Annamaria Clementi Zanella are presented at The Chanler's lush meadow lawn with sweeping views of the Atlantic. Sit back and relax with local oysters, a gourmet picnic box, or simply take your time sipping on the decadent wine selection.
MORE DETAILS

9
Father's Day Car Show
Where:

Longplex Family & Sports Center

When:

JUNE 19th, 2022 from 9:00 AM - 4:00 PM
This is a family-friendly event that is sure to be fun for everyone. From car lovers to kids there is so much to do. Enjoy browsing all the cars while you enjoy music and fun for everyone. We will have face painting, bouncy houses and an arcade for kids to play. Sports Kitchen will be open upstairs that is offering a full menu, large beer selection and specialty drinks.
10
Live Music at Gurney's Newport
Where:

Gurney's Newport

When:

JUNE 18th & 19th, 2022
Enjoy an exciting live performance by a mix of live bands at the Firepit Deck + Pineapple Club at Gurney's Newport. 
Father's Day Weekend Schedule:
Saturday, June 18: The Royal Treatment Band
Sunday, June 19: Honky Tonk Knights
11
Father's Day Special at Newport Car Museum
Where:

Newport Car Museum

When:

June 19th & 20th
Dad's are Free on Sunday, June 19 and Monday, June 20 with purchase of adult ticket by a family member. Museum is open 10:00 AM - 5:00 PM. Tickets at door only.
12
NEWPORT FOODIES STROLL
Where:

DOWNTOWN NEWPORT, TOUR STARTS AT THE WAVE STATUE

When:

JUNE 17th & 18th, 2022, STARTING AT 11:30 AM & 12:00 PM

Cost:

ADULTS: $88, CHILDREN: $37
Newport Foodies Stroll offers a 1.75 miles walking food tour through Lower Thames Street. You will learn about the "City by the Sea", as well as try the cuisine from five of the best locally owned restaurants. The best time to schedule your tour is at the beginning of your visit to Newport. The tour runs rain or shine on June 17th and 18th this Father's Day Weekend. 
All tours begin at 11:30am and last 2.5-3 hours. Meet Tom and Sue, your tour guides, in front of the wave statue/sculpture at the intersection of America's Cup and Memorial Boulevard. They will provide water, sunscreen, and disposable rain ponchos.
MORE DETAILS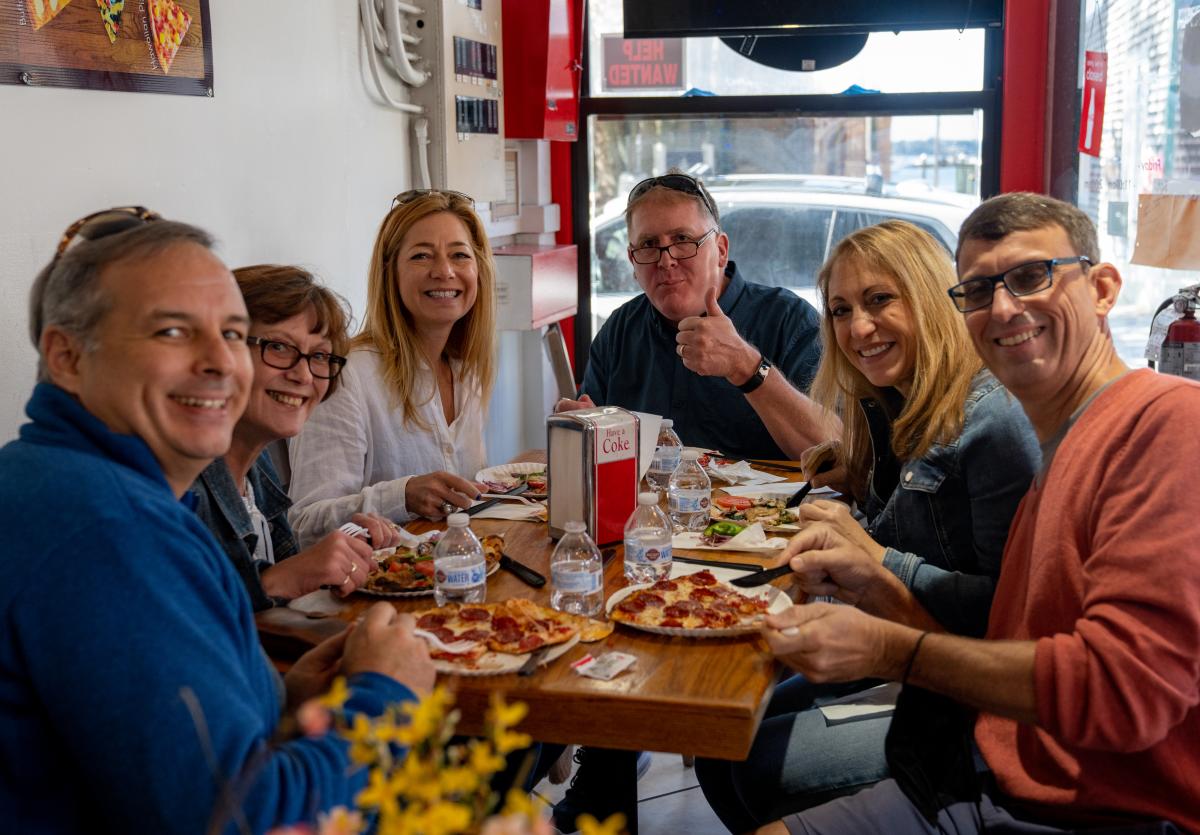 13
THE BIT PLAYERS IMPROV COMEDY
Where:

Firehouse Theater

When:

JUNE 17th & 18th, 2022

Cost:

$18
The Bit Players are a fast paced and energized group of improvisation master-minds. Their high energy LIVE shows are modeled after the hit TV show "Whose Line is it Anyway?". Full of hysterical characters, hilarious games, and side-splitting musical numbers these shows will leave you wanting more every time. No two shows are ever the same. Everything is truly made up on the spot from YOUR suggestions so don't miss a single laugh!
GET SOCIAL
Tag your photos #TheClassicCoast for the chance to be featured on our accounts.