Igloos overlooking the bay have returned to Gurney's Newport Resort and Marina for the season.
The seaside resort overlooking Narragansett Bay and the Newport Bridge has re-launched their multi-sensory themed igloos where you can savor a festive cocktail or assorted snacks while overlooking the bay. Each igloo is heated and has its own theme-specific games and music alongside a signature cocktail pairing.
COVID-19 NOTE:
The igloos are heated and can fit up to four people
Reservations are for two hours 
The following food & beverage minimums apply to all igloo reservations: $100 minimum for mid-week lunch, $150 minimum for weekend lunch. Evening reservations are $200 minimum Sunday - Thursday and $250 minimums for Friday, Saturday and Holidays. 
Igloos are disinfected between reservations with M.I.S.T. Fogger & Disinfection solution, both hospital-grade and NSF-certified
When you're ready, we can't wait to welcome you back to The Classic Coast! Rest assured, local restaurants, shops and business are doing everything they can to ensure the safety of all. This includes wearing mandatory face coverings, following guidelines put in place by health and government officials, and implementing stringent cleaning practices.
All we ask when you land on these shores is that you play your part in keeping everyone safe: Please be kind, wear a mask, wash your hands and maintain six feet of social distancing from others. When planning to visit a local restaurant or venue, we ask that you please check their website for updates on new hours, regulations and to confirm if reservations are required. 
Remember: No matter where you plan to dine, face coverings are required while waiting for your reservation/table; on your way to and from your table and if you leave your table to use the restrooms. 
As for the themes:
SANTA'S WORKSHOP
Conjure your Christmas spirit inside the Santa's Workshop igloo where twinkling decor, plush blankets, and a mailbox for Santa set the winter wonderland mood.
SIGNATURE COCKTAIL PAIRING: SOUTH POLE HOT COCOA
Vodka, peppermint schnapps, Corso hot chocolate, house made peppermint marshmallow and candy cane crumble.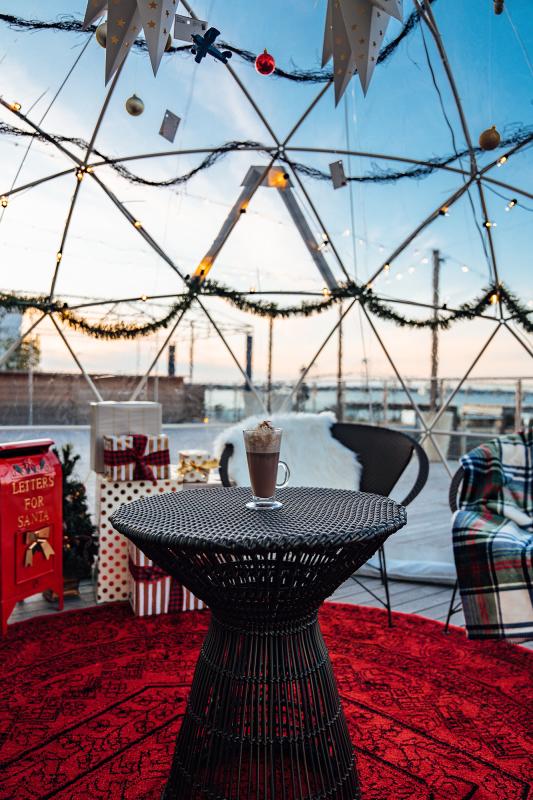 TROPICAL SUMMER
Endless summer awaits you inside the Tropical Summer igloo adorned in greenery, rattan elements and vibrant colors. 
SIGNATURE COCKTAIL PAIRING: THE STRAWBERRY JUNGLE BIRD
Light rum, dark rum, Campari, strawberries, pineapple and lime.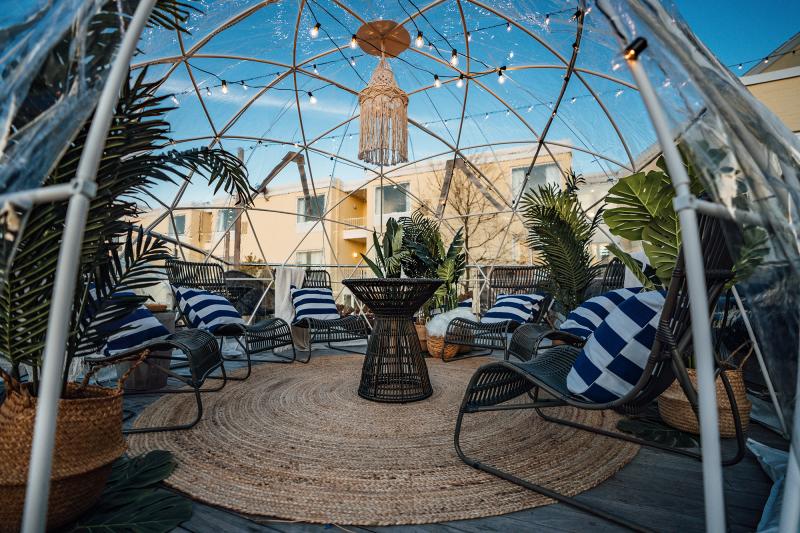 ASTROLOGY
Step inside the fortune teller (astrology) igloo adorned in velvet accents, tarot cards, quartz crystals and plenty of candles.
SIGNATURE COCKTAIL PAIRING: THE ORACLE
Pea Tendril Gin, Green Chartreuse, Luxardo, lime, lavender, bubble smoke.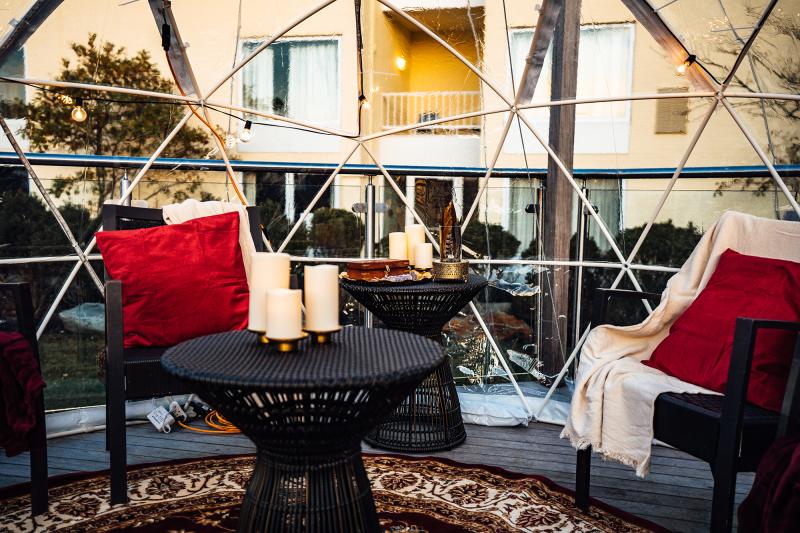 GET SOCIAL
Tag your photos #TheClassicCoast for the chance to be featured on our accounts.