Summer isn't the only time things heat up in Newport. As temperatures begin to dip, this list of date ideas around town gets even more creative to keep the flame alive. Because what's more romantic than freshly fallen snow and the sound of winter waves meeting the shoreline? Correct answer: Not much. Commence mitten holding.
COVID-19 NOTE:
When you're ready, we can't wait to welcome you back to The Classic Coast! Rest assured, local restaurants, shops and business are doing everything they can to ensure the safety of all. This includes wearing mandatory face coverings, following guidelines put in place by health and government officials, and implementing stringent cleaning practices.
All we ask when you land on these shores is that you play your part in keeping everyone safe. Please be kind, wear a mask, wash your hands and maintain six feet of social distancing from others.
DOWNTOWN DATE NIGHT
First Stop: Hot Chocolate Bar at The Chanler
Second Stop: Fireside drinks at Forty 1 North
Final Stop: Dinner at Vieste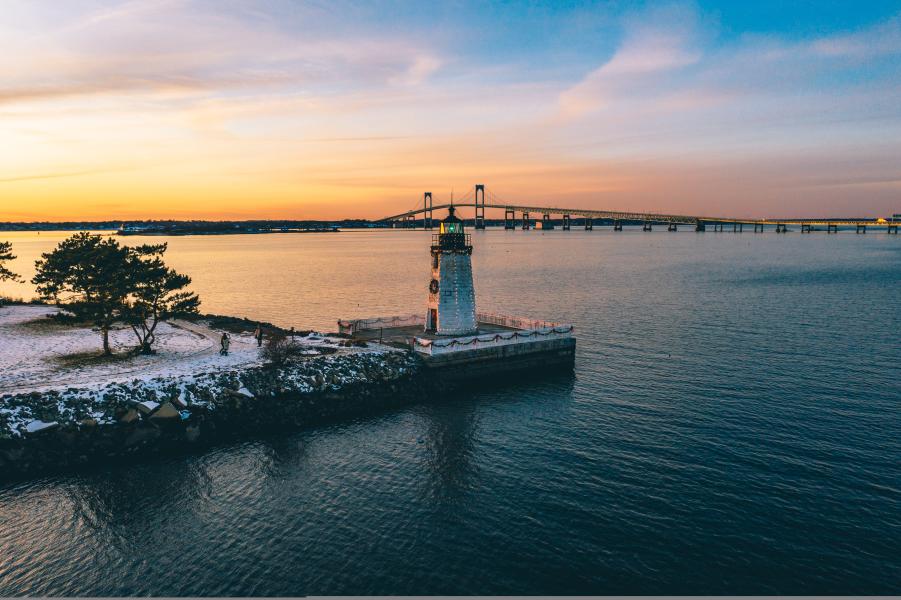 One might argue that no winter date list is complete without a stop for hot chocolate. Head over to The Chanler at Cliff Walk for a taste of artisan hot chocolate crafted from scratch at their Hot Chocolate Bar and choose from two offerings with a side of unobstructed views of the Atlantic. When you're done, make your way down the steps onto Newport's beloved Cliff Walk for a crisp stroll sure to include mitten holding.
Afterwards, head over to Forty 1 North on Lower Thames Street to warm up with a drink in-hand next to the roaring fire. Ambiance lighting and soothing music next to the crackling fire make for the perfect place to cozy up. When you've built up an appetite, head down the street to Vieste where you'll delight in the indulgent flavors of elevated Italian food next to outdoor heaters for the ultimate intimate experience.
The Chanler, 117 Memorial Boulevard, Newport
Forty 1 North, 351 Thames Street, Newport
Vieste, 580 Thames Street
HANDS-ON DINNER + DRINKS
First Stop: A cooking class at Newport Cooks
Second Stop: Drinks at Newport Craft Brewing + Distilling Co.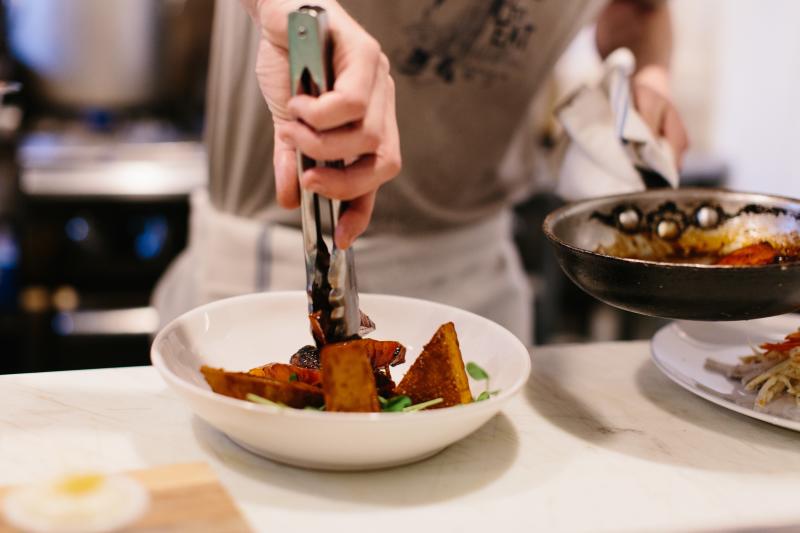 Whether you've been hoarding an impressive repertoire of culinary skills or struggle to make cereal in the morning, nothing is better than creating something together. Head over to Newport Cooks for a creative line-up of cooking classes to hone your skills on everything from Greek tapas to homemade pasta and Vietnamese staples. 
Next, make your way to Newport Craft Brewing + Distilling. Founded in 1999, this local brewery is the original production craft brewery in Rhode Island and has crafted more than 100 distinctive beers made with Rhode Island grown ingredients. The distillery, founded in 2006, offers gin, amaro, single barrel rum, moonshine and whiskey, all distilled, aged and bottled in the facility. You and your date can enjoy a self-guided tour through the facility followed by a tasting of both beer and spirits.
Newport Cooks, 796 Aquidneck Avenue, Middletown
Newport Craft Brewing + Distilling, 293 JT Connell Hwy, Newport
JOURNEY BACK IN TIME
First Stop: Dinner at America's Oldest Tavern
Second Stop: Improv Comedy at Firehouse Theater
Final Stop: Drinks at Salvation Cafe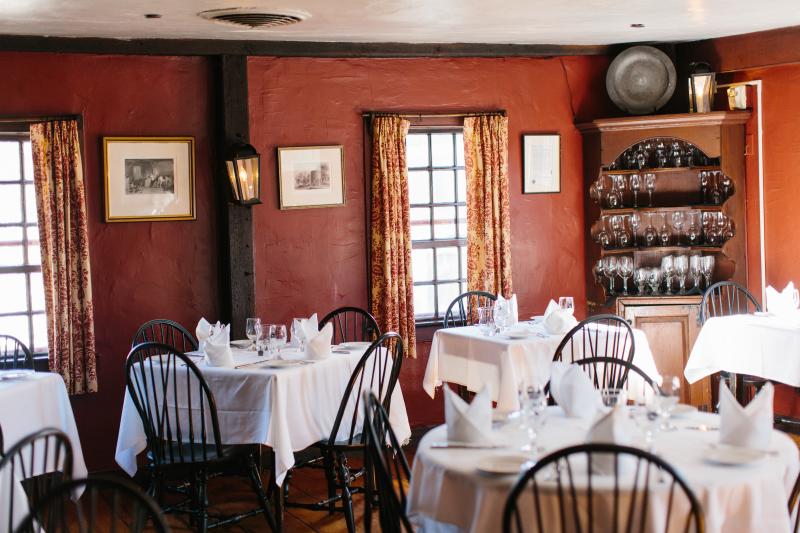 Few things say romance quite like dinner in America's oldest tavern, trust us on this one. Opened in 1673, White Horse Tavern feels somewhat frozen in time; rooms are still lit with oil lamps, logs burn in the fireplaces and cozy candles still set the mood. Don't let this fool you, though. While the atmosphere is reminiscent of the Colonial Era, the food takes a modern approach. Indulge in New England fare like clam chowder and lobster bisque, plus a twist on classic favorites like duck scotch eggs, Foie Gras torchon and more. 
Afterwards, start building a lifetime of laughter together (Is it too soon to discuss the future? You think we're rushing things?) at Firehouse Theater with The Bit Players, Rhode Island's award-winning improv comedy troupe. Shows are modeled after Whose Line Is It Anyway, are BYOB and typically last one hour and 45 minutes.
End the night with drinks around the corner at Salvation Cafe on Broadway, a vibrant eatery decorated with local thrift shop finds and boasting dishes ranging from Asian and Indian to Mexican and Spanish.
White Horse Tavern, 26 Marlborough Street, Newport
Firehouse Theater, 4 Equality Park Place, Newport
Salvation Cafe, 140 Broadway, Newport
PLAYFUL NIGHT FOR TWO
First Stop: Dinner at Pasta Beach
Second Stop: Games at Ryan Family Amusements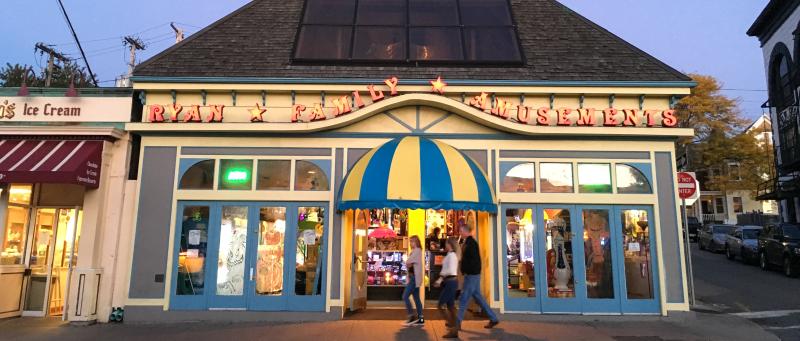 Set the tone for an evening of charm by beginning the night with dinner at Pasta Beach. Tucked away on historic Bellevue Avenue, this newly relocated eatery offers pastas tossed with fresh veggies, cheese and herbs; pizzas topped with cheese and arugula; and Italian sandwiches crafted with fresh ingredients. Pro tip: The back bar is a cozy spot to share pizza and a bottle of wine. 
Next, indulge in a little playful competition at Ryan Family Amusements on Thames Street where you'll find more than 35 video and arcade games to engage your kid-at-heart side.
Pasta Beach, 138 Bellevue Avenue, Newport
Ryan Family Amusement, 268 Thames Street, Newport
A DAY-DATE ON THE HARBOR
First Stop: A seal tour on Narragansett Bay
Second Stop: Lunch at Bar 'Cino
Final Stop: Glassblowing at Thames Glass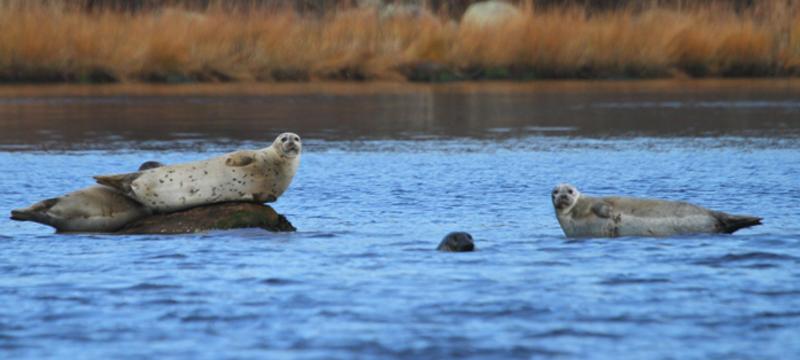 Hop aboard Save the Bay's education vessel for 360-degree views of Narragansett Bay and the chance to catch harbor seals resting on Citing Rock off of Rose Island and the NPT Bridge. Tours are one hour, or you can opt for a two-hour tour and hop off at Rose Island to tour the historic lighthouse and the grounds. Don't worry, you'll have your love to keep you warm (Still too soon?)
Afterwards, head over to Bar 'Cino in Washington Square where Italian cuisine is the star of the menu and the vibe is casual with a cafe feel. You won't regret ordering their signature item: thin-crust pizza with toppings like prosciutto, fig and arugula. It's served with scissors to cut it yourself - you know, the way your Italian grandmother would. 
End the day with a trip down Thames Street to Thames Glass where you and your date can create a hand-blown masterpiece together with the supervision of an experienced glassblower. 
Bar 'Cino, 22 Washinton Square, Newport
Thames Glass, 688 Thames Street, Newport
MORE EXPERIENCES
invalid widget [plugins_collections_template_custom_imagegrid] [custom_imagegrid]
GET SOCIAL
Tag your photos #TheClassicCoast for the chance to be featured on our accounts.