Nov 3 2022-Dec 31 2023
A gourmet escape for two complete with unmatched scenic views and culinary decadence at its finest…
1
POP-UP IGLOOS IN + AROUND NEWPORT
Where:

Newport Harbor Island Resort, The Reef, and Diego's Newport

Cost:

Varies
When it is a cold winter night—instead of staying indoors—enjoy a cozy, decorated, and heated igloo overlooking the bay with a prime view of sunset, paired with seasonal cocktails and a creative menu. These cold-weather dining experiences will keep you warm, and somewhat outside, until Spring.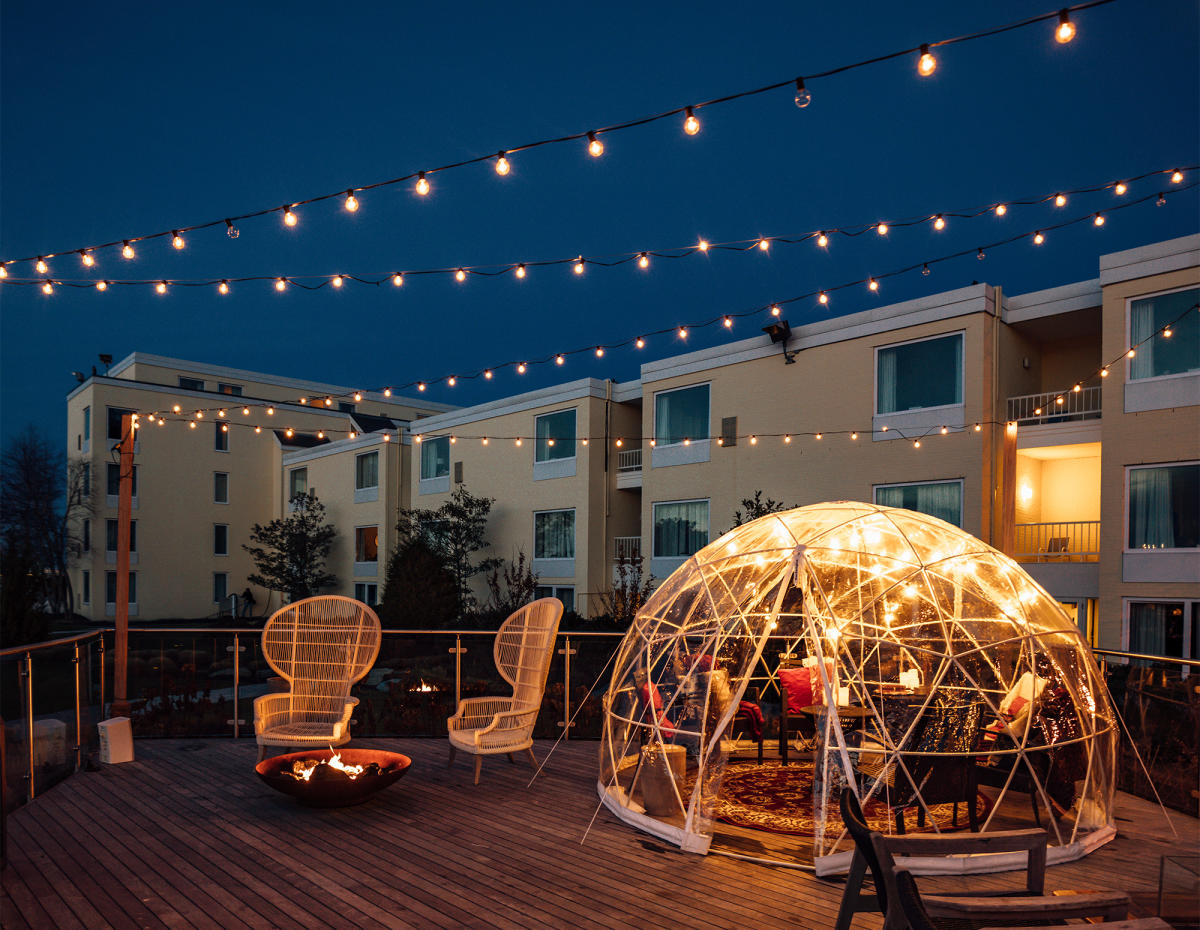 2
HOT CHOCOLATE BAR at THE CHANLER
Where:

THE CHANLER AT CLIFF WALK

When:

SATURDAY's & SUNDAY'S

HOURS:

1:00 PM - 4:00 PM
Spend an afternoon in front of the roaring fire pit or take a winter stroll along the Cliff Walk with a decadent cup of hot chocolate in hand. Artisanal hot chocolate is crafted with either milk or dark chocolate, with the option to upgrade to an adult version.
3
Newport Saint Patrick's Day Parade
Where:

Downtown Newport

When:

Saturday, March 11th 2023
Find your best green attire, keep your eyes open for leprechauns, and join in the revelry to celebrate St. Patrick's Day in Newport! The parade kicks off from the Newport City Hall and runs through Washington Square, down Thames Street, and ends at St. Augustine's Church. Parade will be held rain or shine.
4
NEWPORT VINEYARDS EVENTS
Enjoy a month of non-stop fun at Newport Vineyards this March. From the weekly flight night, to a blind beer tasting and weekly dining specials—come hungry, thirsty, and ready to have fun. 
5
Gilded Age Orchestra of Newport
Where:

The Breakers

When:

March 2nd

Cost:

In-person members: $15; In-person non-members: $20; Zoom price: $10
Immerse yourself in music from Season 1 of HBO's "The Gilded Age." Enter a world of elegance and beauty, and experience live music as if you waltzed directly out of a time machine. This historically accurate program will include selections featured in the series, performed by many of the actual musicians who portrayed period artists on-screen, as well as a special performance by Dr. Christopher Brellochs, who appeared as composer/conductor John Knowles Paine in the HBO series. Conductors Dr. Mark Stickney and Brellochs will also provide the historical background of the music. This program is sponsored in part by Historic Music of Newport. Registration and ticket information available soon. 
More Details
6
RI Craft Beer Week
Where:

Breweries In & Around Newport

When:

March 3rd - 12th
Attention beer lovers; Rhode Island Brewers Guild is crafting up a schedule of events at your favorite breweries, bars and restaurants around the state to celebrate the 2nd RI Craft Beer Week, happening March 3rd - 12th. There will be events happening all week long at taprooms and breweries, along with special featured events, like a musical bingo at Pivotal Brewing Company, open mic nights and nightly specials at Six Pack Brewing, and a blind beer tasting to test your brewery knowledge all week at Taproot Brewing Co. to name a few. 
7
The Cocktail Club: Mixology Class
Where:

BLITHEWOLD MANSION, GARDENS & ARBORETUM, BRISTOL

When:

March 5th, 12th, 19th, and 26th

Cost:

MEMBERS (6 PEOPLE): $35 | NON-MEMBERS (6 PEOPLE): $55
Craft the perfect Old Fashioned with Woodford Reserve and expert mixology guidance from the One Bellevue team! Perfectly curated to showcase the notes, profile, and distillation of a selection of tasting spirits, you're sure to come away with a few new favorites. Class includes: Tasting of 3 Spirits, Cocktail Demonstration & Chef Selected Appetizers
MARCH SCHEDULE
Celebrating the many talented women owners, distillers and blenders of the beverage industry:
March 2nd – The Old Fashioned with Woodford Reserve
March 9th – The Daiquiri with Appleton Rum
March 16th – Irish Whiskey
March 23rd – The Gimlet with Rhodium Gin
March 30th – The Margarita with Herradura Tequila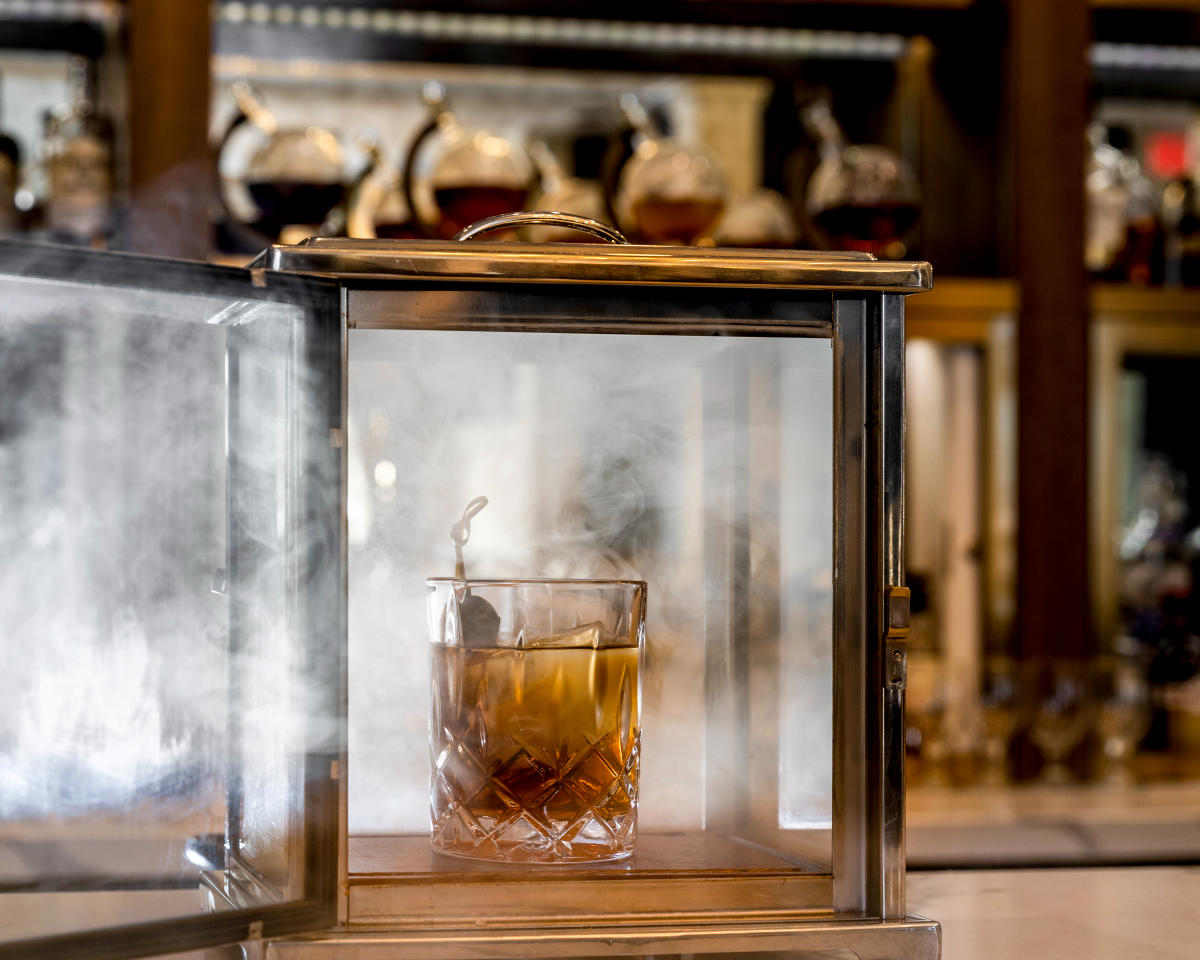 8
Newport Irish Heritage Month
Where:

Around Newport

When:

March 1 - 31
"All things Irish", is the goal of the 46th Annual Newport Irish Heritage Month with family fun events, guided tours, the 67th Annual Newport St. Patrick's Day Parade and more Irish-themed happenings occurring all month long thanks to The Museum of Newport Irish History. 
Below find a preview of some of the great events being offered, for a full list, click here.
9
"Vineyard to Table" An Evening with Rombauer Vineyards
Where:

The Chanler at Cliff Walk

When:

March 10 from 6:30 PM to 10:00 PM

Cost:

$225 per person
Make your way to The Chanler for an exclusive evening of exquisite wines from Rombauer Vineyards and a curated multi-course menu from their talented culinary team.
MORE DETAILS
10
Fermentation Class
Where:

Forty 1° North

When:

Recurring weekly on Wednesday from 6:30 PM to 8:30 PM

Cost:

$45 per person
Featuring five wine tastings with a special theme or from a particular region accompanied by five small food pairings, Fermentation Class is held at the Oval Bar every Wednesday at 6:30. Reservations are required and this class often sells out.
11
A Celtic Concert with Turas at Linden Place
Where:

Linden Place

When:

March 10th From 7:00 PM to 9:00 PM

Cost:

$20, $15 for members
Turas is made up of four singers and many instruments, including Bob Drouin, co-founder of the legendary Celtic band, Pendragon, on fiddle, flute and guitar, Josh Kane on flute and whistle, Rob McConeghy on piano and guitar and Dean Robinson on bodhran, bones, djembe and whistle. Together they will bring the sounds of Ireland to Bristol.
MORE DETAILS
12
Afternoon Tea
Where:

Hotel Viking

When:

Recurring weekly on Sunday, Saturday from 2:30 PM to 4:30 PM

Cost:

$49 per person
Enjoy a quintessential Afternoon Tea in the Garden Room at One Bellevue. The dedicated team will walk you through choosing the perfect loose leaf tea, prepared table side for each guest. Enjoy culinary delights ranging from house baked scones, delicate finger sandwiches to petit fours and cakes. The beverage cart can be found serving Champagne and Cocktails for guests wishing to enhance their experience.
Dress is smart casual. Please notify the restaurant if you have any dietary restrictions or food allergies.
MORE DETAILS
13
Newport Classical presents Randall Goosby
Where:

Emmanuel Church

When:

March 10th at 7:30 PM
Virtuoso 25-year-old violinist Randall Goosby, hailed by The New York Times for his "exquisite tone and sheer virtuosity," performs music by Beethoven, Grant Still, Ravel and Boulanger with pianist Ann Han.
MORE DETAILS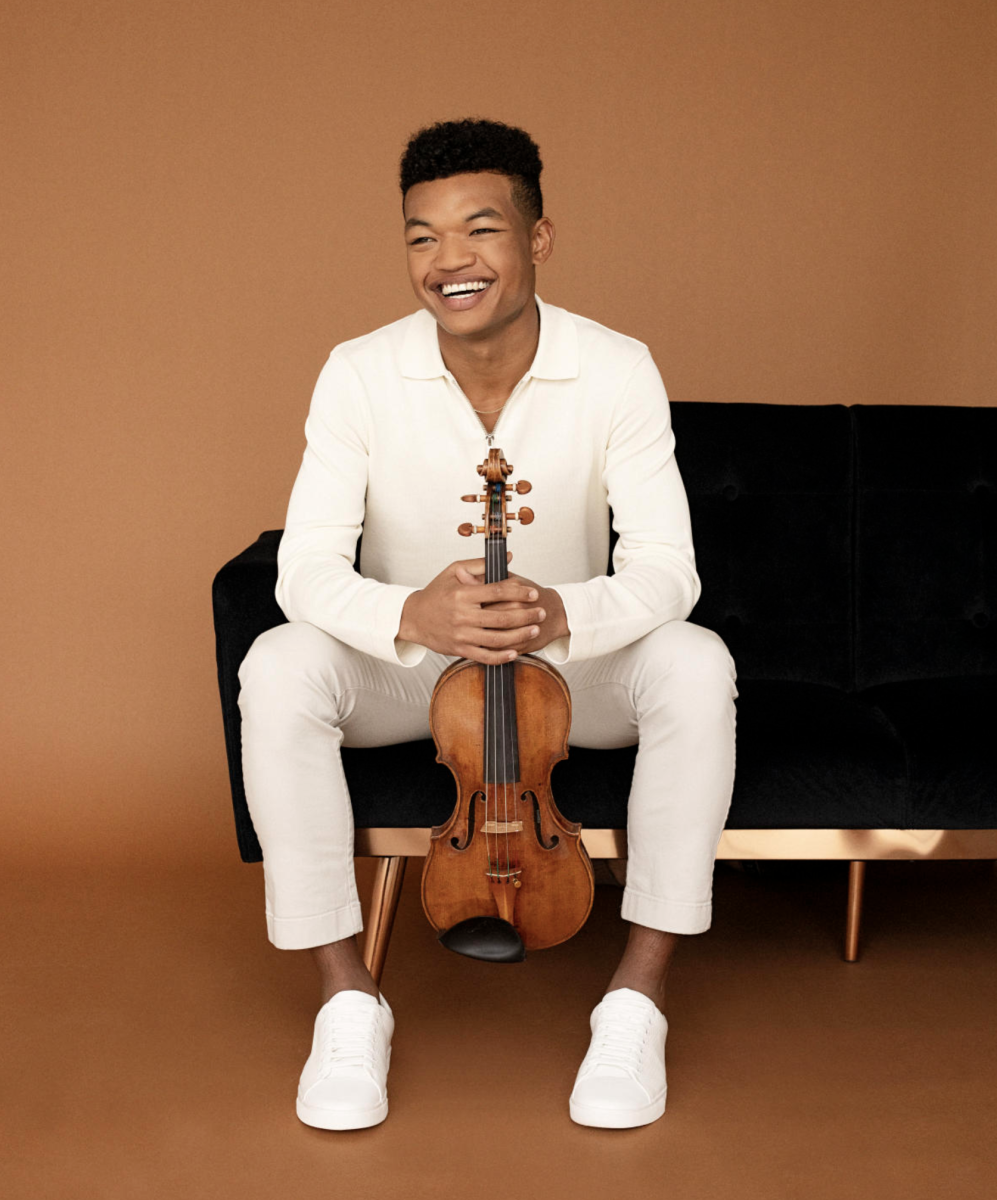 14
Newport Live Presents: Mark Erelli Concert and Record Release Party
Where:

Jamestown Arts Center

When:

March 23rd from 7:00 PM to 9:00 PM

Cost:

$35
Newport Live Presents: Mark Erelli Concert and Record Release Party at the Jamestown Arts Center.
MORE DETAILS
15
Newport Contemporary Ballet Performances
Where:

The Keats Theatre at St. Andrews School

When:

March 16 - 18, 24 & 25

Cost:

Premium Seating: $58; Gold Seating: $48; Silver Seating: $38 All Sales are final & non-refundable
Sinuous… Striking … Soulful … Stirring…
To honor the 100th birthday of one of the 20th century's most influential artists, the The Gerald Arpino Foundation announces a multi-year Centennial Celebration of the late choreographer's life and works. 
MORE DETAILS
Are the Crayons Quitting?
Where:

The Keats Theatre at St. Andrews School

When:

March 24 - 25

Cost:

Adult Seating: $48 Kids, Students, & Senior Seating: $25 All Sales are final & non-refundable Recurring daily
Adapted from The Day the Crayons Quit by Drew Daywalt. With a little creativity and a lot of color, Duncan saves the day!
MORE DETAILS
16
Newport Live Presents: Mark Erelli Concert and Record Release Party
Where:

Jamestown Arts Center

When:

March 23rd from 7:00 PM - 9:00 PM

Cost:

$35
Newport Live Presents Mark Erelli at the Jamestown Arts Center in Jamestown, RI, Thursday, March 23rd at 7:00 PM
MORE DETAILS
17
Southcoast Health Aquidneck 10K
Where:

Sachuest Beach (Second Beach)

When:

March 26 from 9:00 AM - 12:00 PM
The Southcoast Health Aquidneck 10k is an annual event with the goal of supporting our friends at the Norman Bird Sanctuary. All participants will receive a race shirt, race bib, timing chip, and finisher's medal.
MORE DETAILS
18
Newport Winter Foodies Stroll
Where:

Begins in front of O'Brien's Pub

When:

Friday and Saturday evenings at 6:00 PM
Newport Winter Foodies Stroll offers a 1-mile guided walking food tour through Newport's historic Thames Street. Learn about the city's rich history while savoring classic cuisine from three local restaurants. You'll receive a three-course meal accompanied by selected wine pairings. Tasting locations include Vieste, Midtown Oyster Bar, and Bar and Board Bistro. Tasting locations subject to change.
19
FREE GUIDED BIRD WALKS
Where:

NORMAN BIRD SANCTUARY, MIDDLETOWN

When:

March 5th & 19th from 8:00 AM - 10:00 AM

Cost:

FREE
FREE - No registration required. Meet in the parking lot.
Count up as many bird species as you can, from soaring red-tailed hawks to tiny hovering hummingbirds. You'll learn how to identify common year-round residents and seasonal migrants.
All birding levels welcome. Binoculars are helpful but not required.
20
Newport, Resort City of Fashion, 1870-1920: A Newport Historical Society Lecture
Where:

Newport Historical Society

When:

March 30th from 5:30 PM - 7:30 PM

Cost:

$20 per person, $15 for Newport Historical Society members and members of the military.
On Thursday March 30, 2023, the Newport Historical Society will host fashion historian Rebecca Kelly to present the illustrated lecture; Newport: Resort City of Fashion 1870 – 1920.
MORE DETAILS
21
TIVERTON FARMERS MARKET
Where:

TIVERTON MIDDLE SCHOOL - GYMNASIUM, 10 QUINTAL DRIVE

When:

SUNDAYS FROM 10:00 AM - 1:30 PM
A Local Farmers Market situated right smack in the middle of this cozy town of Tiverton, RI. Connecting the community to fresh & local produce, meats, seafood, baked goods, vegan & vegetarian options and prepared foods. We are now using our alternate location at The Tiverton Middle School Gymnasium on Sundays, from 10:00 AM to 2:00 PM. 
22
FARMERS MARKET AT MOUNT HOPE FARM
Where:

MOUNT HOPE FARM

When:

SATURDAYS IN MARCH, 10:00 AM - 12:30 PM
The year-round farmers market happens every Saturday morning. Swing by to pick up your local produce, bread, meat, fish, kombucha, and more each week as well as listen to live music in the summer, connect with local nonprofits and community organizations, and visit with friends!
23
AQUIDNECK GROWERS MARKET
Where:

STONEACRE GARDEN

When:

SATURDAYS FROM 9:00 AM - 12:00 PM — no market March 18th
Aquidneck Community Table's Growers Markets provide easy access to seasonal, regionally-grown food and greater awareness of the benefits of eating fresh local foods for our health, the strength of our local economy, the viability of agricultural life, and the future of our earth.
Our marketplaces feature both organic and conventionally-grown products that include fresh vegetables, cut flowers, herbs, fruit, plants, eggs, breads, baked goods, meats, seafood, cheese, salsa and prepared foods such as soups, vegan foods, Mediterranean and Middle-Eastern cuisine.
24
THE BIT PLAYERS IMPROV COMEDY
Where:

FIREHOUSE THEATER, 4 EQUALITY PARK PLACE, NEWPORT

When:

FRIDAY & SATURDAY'S

Cost:

$18
Come see RI's most award-winning comedy troupe as they hit the stage with their hilarious improv comedy show full of larger than life characters, hysterical musical numbers, and the quickest wit you'll ever see. Seating is on a first come first serve basis. Each show runs for 1 hour, both Friday and Saturday evenings throughout the month.
Pro-tip: Make sure you get tickets in advance, shows often sell out.
25
First Spring Tree Walk: Old Beach Road Neighborhood
Where:

Old Beach Road Neighborhood

When:

March 30 from 9:00 AM - 10:00 AM
Enjoy a peaceful and enlightening neighborhood walk on Old Beach Road and the adjacent streets. Early flowers, interesting bark, broadleaf evergreens, and noble specimens are in store. Please dress appropriately for the weather.
MORE DETAILS
GET SOCIAL
Tag your photos #TheClassicCoast for the chance to be featured on our accounts.