COVID-19 NOTE:
When you're ready, we can't wait to welcome you back to The Classic Coast. Rest assured, the safety and well-being of both visitors and locals remains our top priority.  All we ask when you land on these shores is that you play your part in keeping everyone safe. Please be kind and adhere to local guidelines. 
1
Winter Yurts
Where:

The Chanler at Cliff Walk

When:

Now - April 17, 2022 from 5:00 PM to 8:00 PM

Cost:

220.00 per person
Ever dreamed of overlooking the Atlantic, with a feast of food, some of your closest friends in a private Nordic dressed Yurt? Look no further, The Chanler at Cliff Walk will take you on a gastronomic trip to the Nordic region, as they present an unparalleled experience filled with food, bespoke service and extraordinary ambiance in their private winter Yurts. Book your New England Nordic experience today.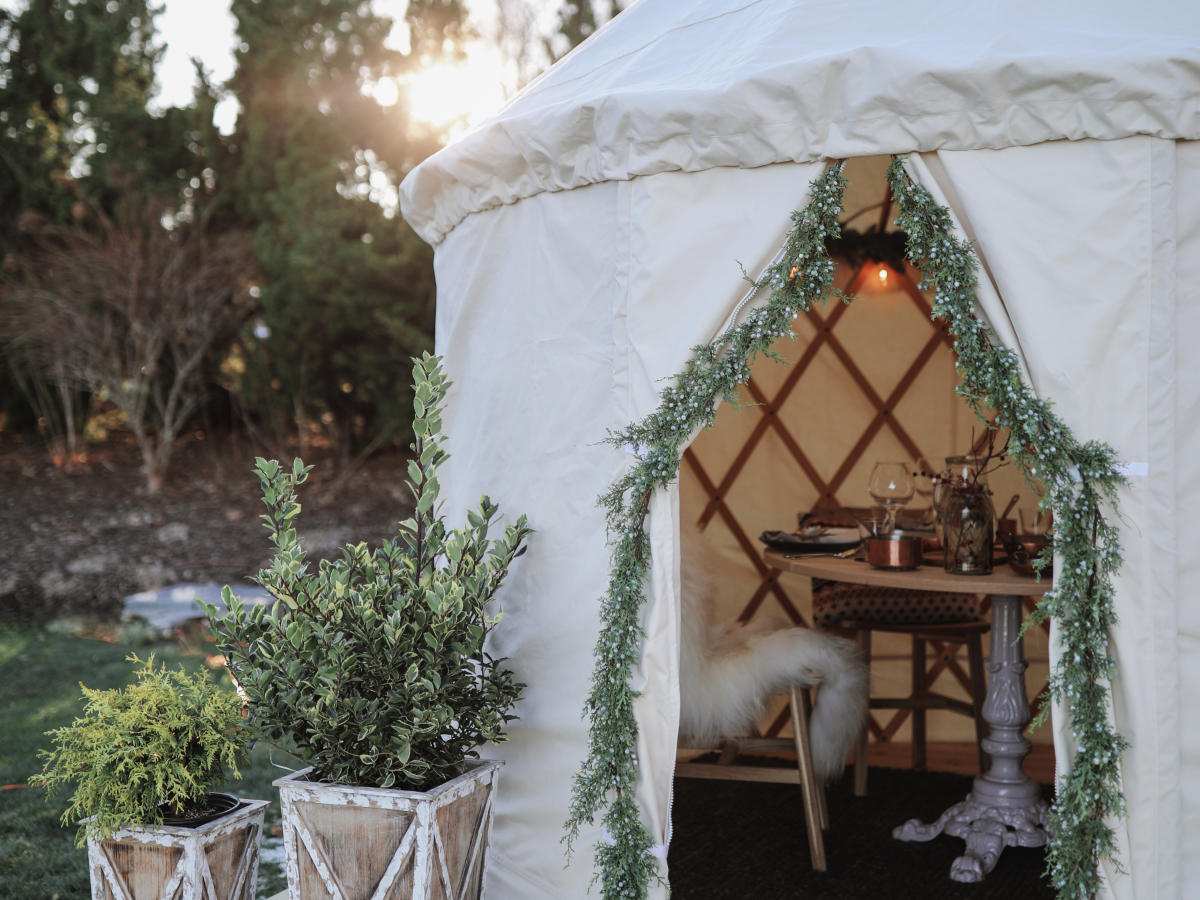 Photo: The Chanler at Cliff Walk
2
Girl Scout Cookie & Beer/Cocktail Pairing
Where:

Newport Craft Brewing & Distilling Co.

When:

March 4th, 5th and 6th

Cost:

A flight of beer with cookies is $16 and a flight of spirits with cookies is $18
You may have seen your local Girl Scouts selling cookies at the grocery store, or even on social media, but have you had the chance to pair those boxes of delicious goodies with a flight of beer or spirits yet? Now is your chance. Newport Craft has expertly paired a flight of cookies and beer for $16, and spirits and cookies for $18 in their second annual Girl Scout Cookie & beer tasting event. As Newport Craft says, "Cookies and beer, what can go wrong?!" Book your cookie tasting event now. 
More Details
3
Newport Saint Patrick's Day Parade
Where:

Downtown Newport

When:

Saturday, March 12th 2022
Find your best green attire, keep your eyes open for leprechauns, and join in the revelry to celebrate St. Patrick's Day in Newport! The parade kicks off from the Newport City Hall and runs through Washington Square, down Thames Street, and ends at St. Augustine's Church. Parade will be held rain or shine.
4
Winter Speaker Series 2022: Sheila Barker
Where:

In person at the Newport Art Museum, and Virtually on Zoom

When:

March 5th at 2:00 PM

Cost:

Non-member: $20 per person, Member: $15 per person
The lecture, focusing on "The Artist and the Plague: Stories of Terror, Empathy, and Miracles from the Black Death to the Naples Plague (1347–1656)", will be followed by audience Q&A and continued conversation in the galleries over hot tea, coffee, and scrumptious light fare and desserts, generously provided by Pranzi Catering.
5
S'MORE THAN JUST A HAYRIDE
Where:

Simmons Farm

When:

March 5th, 12th and 19th

Cost:

$10 – $65
Simmons Farm has just the thing to cure your winter blues this season. On Saturday afternoons, throughout the winter, enjoy a hayride through the historic farm with gorgeous views of Narragansett bay and some of the most sought after sunsets on the island, all with a steaming cup of cocoa in hand. To top it off, each guest receives a s'mores kit to enjoy at their fire pits. See you at the farm!
More Details
6
COZY FIRES AND TASTY TREATS AT BLITHEWOLD
Where:

BLITHEWOLD MANSION, GARDENS & ARBORETUM, BRISTOL

When:

March 5th, 12th, 19th, and 26th

Cost:

MEMBERS (6 PEOPLE): $35 | NON-MEMBERS (6 PEOPLE): $55
Cuddle up by the fire and roast marshmallows overlooking the Great Lawn at Blithewold. We'll provide chairs, s'mores kits, a well-stocked state-of-the-art low-smoke fire pit, and a spectacular view of wintry Narragansett Bay. All you need to do is gather five friends, six marshmallow-roasting sticks, and one reservation. While you're there take a hike around the grounds too! All that adds up to one very relaxing afternoon in the fresh air!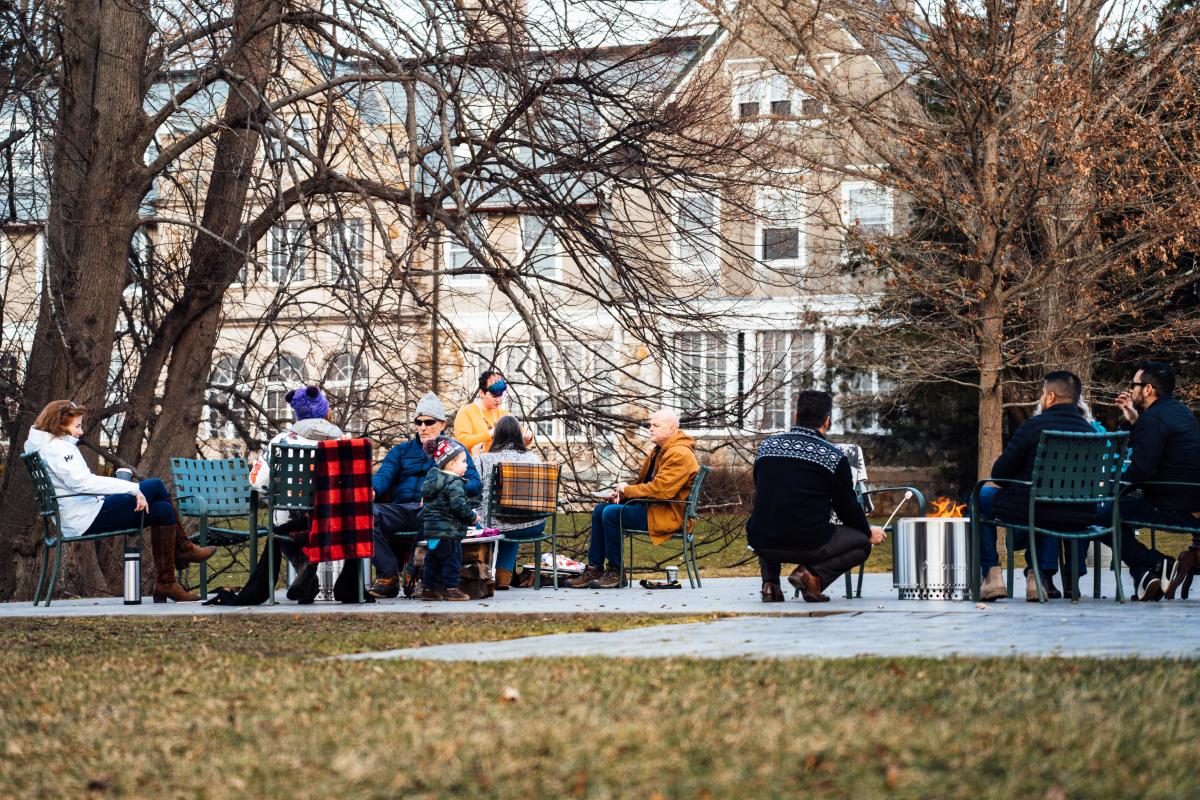 7
MAPLE SUGARING WEEKEND
Where:

Coggeshall Farm Museum

When:

Saturday & Sunday , March 5th & 6th from 10:00 AM to 4:00 PM

Cost:

Included with Standard Daytime Admission ($10 for adults, $5 for youth ages 4-17) or a Coggeshall Farm Museum membership
Coggeshall Farm Museum begins the 2022 season by welcoming back an old favorite- maple sugaring! Coggeshall's costumed historians will demonstrate the process of tapping the trees all the way to "sugaring off." Learn what part maple sugar played in local foodways, the environment, the economy, and the 18th-century abolitionist movement.
8
ANNUAL TROLLEY TOUR OF IRISH NEWPORT
Where:

Departs from the HIBERNIAN HALL, 2 WELLINGTON AVE., NEWPORT.

When:

SATURDAY, MARCH 5, TWO DEPARTURES: 10:00 AM AND 12:30 PM

Cost:

FREE, BUT DONATIONS ARE GRATEFULLY ACCEPTED.
Explore "Irish Newport" on this narrated tour presented by the Museum of Newport Irish History. These 2-hour tours will include stops at sites connected with Newport's Irish heritage, including Forty Steps and the Barney Street Cemetery. Tours include an introductory visit to the Museum's Interpretive Center on Lower Thames Street. Sponsored by Viking Tours of Newport in memory of Karen A. Oakley.
9
HISTORIC IRISH CEMETERY TOUR
Where:

SAINT JOSEPH CEMETERY, CORNER OF BARNEY AND MT. VERNON STREETS, NEWPORT

When:

SUNDAY MARCH 6TH, 20TH AND 27TH AT 12:30 PM
Take a tour of the historic Saint Joseph Cemetery, known locally as the Barney Street Cemetery. Located at the corner of Barney and Mt. Vernon Streets in Newport, is the oldest Catholic cemetery in Rhode Island, and the site of the state's first Catholic church (1828), which served Newport's growing Irish immigrant community. The outdoor tour of approximately 30 minutes, given by a historian/guide with the Museum of Newport Irish History, is held, weather permitting.
MORE WAYS TO EXPLORE:
Take a virtual tour of the Cemetery here.
Watch lecture "Newport's Early Irish Community and Rhode Island's First Catholic Church," presented by Steve Marino (from September 2020), here.
10
GURNEY'S ICE SKATING RINK
Where:

GURNEY'S NEWPORT RESORT, 1 GOAT ISLAND

When:

NOW - MARCH 31, 2022

Cost:

ADULTS: $12, CHILDREN 12 & UNDER/SENIORS/MILITARY: $7, SKATE RENTALS: $10
Join Gurney's Newport Resort for skating by the sea. Glide across the ice with unobstructed views of the Newport bridge, Goat Island Lighthouse and New harbor as your backdrop through March 31, 2022. Afterwards, enjoy snacks and light bites from the Après skate menu. 
ALSO AT GURNEY'S NEWPORT: POP-UP IGLOO'S
Cozy up in one of the many igloos located on The Lounge & Firepit Deck.
Enjoy our special igloo experience through March 31st, with cozy decor and blankets, plus a dedicated menu including shrimp & grits, bruschetta grilled cheese, and house made chili. 
11
RI Wedding Expo at The Wayfinder Hotel
Where:

The Wayfinder Hotel

When:

March 6, 2022 from 12:00 PM - 3:00 PM
Engaged? Save the Date! The RI Wedding Expo at The Wayfinder Hotel, will be held on Sunday, March 6 from 12:00 PM - 3:00 PM. Connect with area's top wedding professionals and start or finish planning your special day. Free admission, free parking, plus a free goody bag to the first 100 attendees!
12
Put Your Face On A Pint Of Guinness
Where:

MALT ON BROADWAY

When:

MARCH 8TH FROM 6:00 PM TO 8:00 PM
Like latte art, but on a Guinness. Yes, beer foam art is now a thing, and you can try it for yourself on March 8th from 6:00 PM to 8:00 PM at Malt Restaurant on Broadway, where they will be putting a picture of your face on a pint of Guinness. Take picture proof of your personalized pint before the foam is sipped away or it didn't happen. 
13
March Beer Hall Night
Where:

Newport Vineyards

When:

Friday, March 11 from 4:00 PM - 8:00 PM

Cost:

FREE ADMISSION
In honor of RI Craft Beer Week, happening March 5-13, Newport Vineyards is offering an evening featuring their lineup of fresh Taproot beers and bites, live music and good vibes. The Tasting Room will be transformed for one evening (only) into a bonafide beer hall; tasting and pint bars, themed brewery bites, live music from the Take it to the Bridge Trio and of course fresh Taproot beer.
14
A Taste of Wellness
Where:

Little Gold Newport, 24 Franklin Street

When:

March 10, 2022 from 6:30 PM - 9:30 PM

Cost:

$50, $55 at the door while supplies last
Enjoy an evening of connection, meditation, personal-development, and all things wellness at Little Gold Newport at the Taste of Wellness event, presented by Sharing the Taste & WELL Club. With raffles, light bites, drinks and networking opportunity, spend your evening connecting with the community and receive a free headshot, goodie bag and relationships that will last.
15
GUIDED TOURS OF FORT ADAMS
Where:

FORT ADAMS STATE PARK, 90 FORT ADAMS DRIVE, NEWPORT

When:

SATURDAYS AND SUNDAYS IN MARCH, AT 11:00 AM, 1:00 PM, AND 3:00 PM

Cost:

$15 FOR ADULTS, $8 FOR CHILDREN AGES 6-17 AND CHILDREN, 5 AND UNDER ARE FREE.
Take a guided tour of the historic Newport fort constructed with Irish labor between 1824-1857. Hour-long tours will be offered at 11:00 AM, 1:00 PM and 3:00 PM, on Saturdays and Sundays in March, weather permitting. 
*Fort Adams is closed on Saturday, March 12th due to the Newport St. Patrick's Day Parade!
16
Newport Out Bookclub
Where:

THE HUDDLE, 42 SPRING STREET, NEWPORT

When:

MARCH 16TH AT 6:30 PM, RECURRING MONTHLY ON THE 3RD WEDNESDAY

Cost:

FREE (DONATIONS WELCOME)
Join Newport Out for a bookclub focused on queer literature. All ages 15+ are welcome to join us, free of charge. Not only do we read, but we also do creative writing and engage in artistic endeavors. This book club is a safe space for all!
MORE DETAILS
17
FREE GUIDED BIRD WALKS
Where:

NORMAN BIRD SANCTUARY, MIDDLETOWN

When:

March 13TH & 27TH, 2022

Cost:

FREE
FREE - No registration required. Meet in the parking lot.
Count up as many bird species as you can, from soaring red-tailed hawks to tiny hovering hummingbirds. You'll learn how to identify common year-round residents and seasonal migrants.
All birding levels welcome. Binoculars are helpful but not required.
18
Geneva Lewis - Newport Classical Chamber Series
Where:

Emmanuel Church

When:

March 11, 2022, 7:30 pm

Cost:

$58 / $45
New Zealand-born violinist Geneva Lewis has forged a reputation as a musician of consummate artistry whose performances speak from and to the heart. After having made her solo debut at the age of 11 years old, Lewis has gone on to perform all over the world and was the 2021 Avery Fischer Career Grant recipient. Join us for this varied program for violin and piano, opening with Janacek's Violin Sonata, known to be the only surviving sonata of the late Czech composer, this program is a culmination of pieces about sadness, darkness, and despair with the unforeseen evolutions into light. 
MORE DETAILS
19
Concert: Irish and Celtic Music Band, Turas
Where:

Linden Place, Bristol

When:

March 11, 2022, 7:00 PM - 9:00 PM

Cost:

$15, $10 for members, FREE for Colt Circle Members
Turas means "journey" in Gaelic and Linden Place will be taking a journey across the musical seas with this Rhode Island band of musicians. Turas is a Rhode Island band that features both traditional Irish and Celtic music as well as modern compositions.

In celebration of Irish Heritage Month, Turas will perform fireside in the Linden Place ballroom on Fri, March 11th at 7:00 PM.
MORE DETAILS
20
Special Event Showcase: Meet Your Maker Market
Where:

Hope and Main, Warren

When:

March 13, 2022, from 10:00 AM to 2:00 PM
Join Hope & Main for a special market featuring makers who will be ideal supplies for any party or event - big or small. This showcase is open to the public, and we will be selling like a regular market. There will be day-of show specials, custom packaging, door prizes, and the best local food producers in Rhode Island.
MORE DETAILS
21
TIVERTON FARMERS MARKET
Where:

TIVERTON MIDDLE SCHOOL - GYMNASIUM, 10 QUINTAL DRIVE

When:

SUNDAYS FROM 10:00 AM - 2:00 PM
A Local Farmers Market situated right smack in the middle of this cozy town of Tiverton, RI. Connecting the community to fresh & local produce, meats, seafood, baked goods, vegan & vegetarian options and prepared foods. We are now using our alternate location at The Tiverton Middle School Gymnasium on Sundays, from 10:00 AM to 2:00 PM. 
22
FARMERS MARKET AT MOUNT HOPE FARM
Where:

MOUNT HOPE FARM

When:

SATURDAYS IN MARCH, 10:00 AM - 12:30 PM
Join us for our weekly farmer's market every Saturday for a full line-up of local farmers, food producers, and artisans. We will begin our season outside and then move to the barn. SNAP, EBT dollars are doubled. *masks required indoors* During the months of January and February the market runs on a shorter winter schedule from 10:00 AM - 12:30 PM
23
AQUIDNECK GROWERS MARKET
Where:

STONEACRE GARDEN

When:

SATURDAYS FROM 9:00 AM - 12:00 PM
Aquidneck Community Table's Growers Markets provide easy access to seasonal, regionally-grown food and greater awareness of the benefits of eating fresh local foods for our health, the strength of our local economy, the viability of agricultural life, and the future of our earth.
Our marketplaces feature both organic and conventionally-grown products that include fresh vegetables, cut flowers, herbs, fruit, plants, eggs, breads, baked goods, meats, seafood, cheese, salsa and prepared foods such as soups, vegan foods, Mediterranean and Middle-Eastern cuisine.
24
The Art of Wine
Where:

The Huddle, 42 Spring Street

When:

March 18, 2022, from 6:00 PM to 8:00 PM

Cost:

$35 per person
Join local wine educator Matthew MacCartney for this fun, hands-on wine class. Bring Your Own Bottle of Wine to practice with as you learn about how wine is made and the difference between wines around the world. And as a student of the Institute of Masters of Wine, put Matthew on the spot to tell you more about the wine you bring.
MORE DETAILS
25
English Pottery Workshop
Where:

Blanc & Bleu Home Decor, Bristol

When:

March 19, 2022, from 12:00 PM to 3:00 PM

Cost:

$85 per person
Join Jenna for this creative painting workshop, where you turn ordinary clay pots into vintage style faux English advertising pots using Jolie paints & waxes. Happening on Saturday March 19th from Noon-3pm. The class includes all materials, refreshments, instruction and your choice of plants for your new pots. Tickets are non refundable so please ensure you can attend before signing up. Masks are required.
MORE DETAILS
26
WALKING TOURS WITH NEWPORT HISTORICAL SOCIETY
Where:

Blanc & Bleu Home Decor, Bristol

When:

March 19, 2022, from 12:00 PM to 3:00 PM

Cost:

$85 per person
Bundle up and make your way outdoors for a 1-hour walking tour with the Newport Historical Society in the heart of downtown Newport. Presented by an expert guide, tours will depart with a group of no more than ten for an especially intimate experience. 
The Tours
27
THE HIGH KINGS, LIVE IN CONCERT
Where:

JANE PICKENS THEATER FILM & EVENT CENTER

When:

SATURDAY, MARCH 19TH AT 7:30 PM

Cost:

$49-$59
28
THE BIT PLAYERS IMPROV COMEDY
Where:

FIREHOUSE THEATER, 4 EQUALITY PARK PLACE, NEWPORT

When:

FRIDAY & SATURDAY'S

Cost:

$18
Come see RI's most award-winning comedy troupe as they hit the stage with their hilarious improv comedy show full of larger than life characters, hysterical musical numbers, and the quickest wit you'll ever see. Seating is on a first come first serve basis. Each show runs for 1 hour, both Friday and Saturday evenings throughout the month.
Pro-tip: Make sure you get tickets in advance, shows often sell out.
29
Southcoast Health Aquidneck 10K
Where:

Sachuest Beach (Second Beach)

When:

March 20, 2022, from 9:00 AM to 12:00 PM
Run alongside beach grass and sand dunes, through a wildlife refuge and bird sanctuary, and past stunning homes and historic churches, showcasing the beauty of Aquidneck Island during this annual 10K event. 
30
LECTURE: PRESENTED BY THE MUSEUM OF NEWPORT IRISH HISTORY
Where:

THE WAYFINDER HOTEL, 151 ADMIRAL KALBFUS RD, NEWPORT AND VIA ZOOM.

When:

WEDNESDAY, MARCH 23RD AT 6:00 PM

Cost:

A FEE, TO BE PAID AT THE DOOR, APPLIES FOR IN-PERSON PARTICIPATION. NO FEE FOR ZOOM PARTICIPATION.
The Life and Times of Patrick J. Boyle, Newport's first Irish Mayor," by guest speaker: Steve Marino. Reception with light hors d'oeuvres to follow (cash bar). Part of the Michael F. Crowley Lecture Series, now in its 20th season. Reservations required for both in-person and virtual participation. 
31
DANCING AT THE FORTY STEPS
Where:

CLIFF WALK, EAST END OF NARRAGANSETT AVENUE

When:

SUNDAY, MARCH 27TH AT 3:00 PM

Cost:

FREE, OUTDOOR EVENT.
Join the official closing event of the 45th Annual Newport Irish Heritage Month by commemorating the informal dances held there by the Irish who made Newport their home in the late 19th and early 20th centuries. Sponsored by the Museum of Newport Irish History, the annual event will feature live traditional Irish music, demonstrations of Irish set dancing led by Donal and Mary Lehane, and the Ancient Order of Hibernian Men Singers. Weather permitting.
32
NEWPORT WINTER FOODIES STROLL
Where:

TOUR STARTS: IN FRONT OF O'BRIEN'S PUB, AT 501 THAMES STREET

When:

FRIDAY & SATURDAY'S

Cost:

$108
Back for another season, cozy up this Winter and enjoy a three course meal accompanied by selected wine pairings at three of Newport's exquisite restaurants. The Newport Winter Foodies Stroll will last several hours along Newport's Historic Thames Street and will encompass just under 1 mile. Tours will run on Friday and Saturday evenings, beginning at 6:00 PM.
Meet Tom and Sue, your tour guides, in front of O'Brien's Pub, at 501 Thames Street.

33
HOT CHOCOLATE BAR
Where:

THE CHANLER AT CLIFF WALK

When:

SATURDAYS AND SUNDAYS, 12:00 - 5:00 PM, NOW - MARCH 27, 2022

Cost:

$13 PER HOT CHOCOLATE | $6 COCOA ENHANCEMENT
Hot chocolate is mandatory when navigating through a winter in New England. When the cold air rolls in, make your way to The Chanler at Cliff Walk, a luxury hotel nestled in a 19th century private mansion-turned-hotel, for a sip of elaborate craft hot chocolate from their newly re-opened hot chocolate bar.
Offerings include two combinations: Valrhona Milk Chocolate Cocoa and Valrhona Dark Chocolate Cocoa, for $13. Indulging? Get the Cocoa Enhancement for an additional $6, Kahlúa Coffee Liquer or Baileys Irish Cream. 
This decadent experience returns February 12, 2022 and will be available on Saturdays & Sundays from 12:00 - 5:00 PM until March 27, 2022. To go only, unless dining
GET SOCIAL
Tag your photos #TheClassicCoast for the chance to be featured on our accounts.