Much like most, we love all things fresh - air, ideas and of course our restaurants, too. Luckily for us, 2016 brings 15 brand new eateries to add to our restaurant roster. From a brand new food truck, to an herb shop that doubles as a tea bar, our foodie bucket list just got longer. And our waistline probably a little rounder.
A FORK IN THE ROAD FOOD TRUCK
Operated by Blackstone Caterers, Newport's only food truck cooks up fresh eats seven days a week. Typically parked next to the Visitors Center at Fort Adams State Park, the food truck features burgers, chicken sandwiches, lobster rolls, salads, soups, sides and a kid's menu. Details.
BINGE BBQ
Binge BBQ took over the former Van Gogh Pizza locale, now serving savory eats cooked daily in an all-wood fired smoker on site in the Broadway area. Enjoy sliced beef brisket, pork shoulder, pork belly, spare ribs, turkey, fried chicken, hot pastrami and more with traditional comfort food sides including braised collard greens, BBQ baked beans, homemade slaw, mac and cheese croquettes. 12 Broadway, Newport. Details.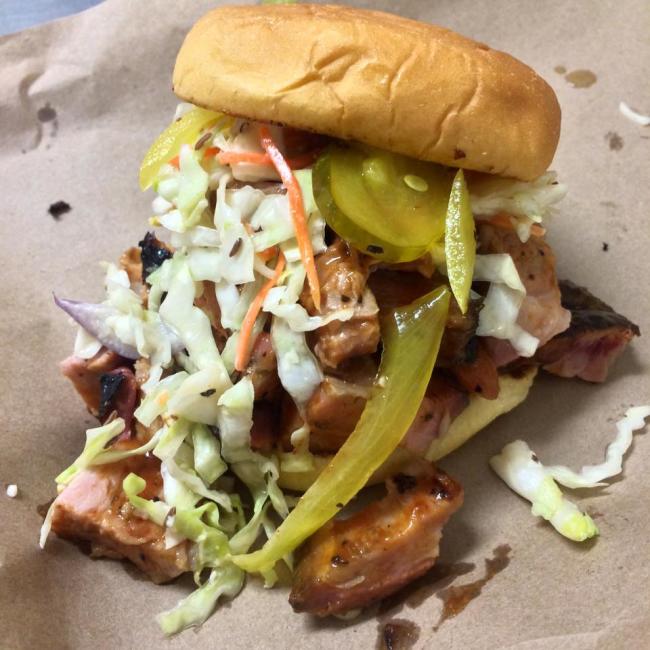 credit: facebook.com/bingebbqri
THE BOAT YARD BAR & GRILL
In the heart of Newport's downtown Brick Market Place, this restaurant serves modern American cuisine in a nautical setting. 151 Swinburne Row, Newport. Details.
CHRISTO'S PIZZA
This family restaurant serves pizzas made with fresh dough, topped with premium ingredients, then cooked to perfection in addition to a selection of grinders, pastas, burgers, sandwiches and salads. Pro Tip: Buy four pizzas, get the fifth one free. 266 Bellevue Avenue, Newport. Details.
DIEGO'S BODEGA
Newport's much-loved Diego's restaurant has expanded with a new location which also serves as their catering headquarters. Burritos, tortas, salads, guacamole and salsas round out the menu, plus a Mexican Market and cool refreshments. 124 Aquidneck Avenue, Middletown. Details.
FATULLI'S BAKERY
This longtime favorite is moving its bakery and café from Middletown to downtown Newport this summer. 476 Thames Street, Newport.
GATHER 
An herbal medicine shop, tea bar, clinic and classroom. Here you'll find a variety of organic herbs, roots, flowers and seeds, as well as essential oils, tinctures and other consciously-crafted herbal products. The tea bar serves artfully created herbal teas and beverages to nourish, support and inspire. Classes, consults and services are offered weekly by trained and experienced herbalists at an affordable rate. 312 Broadway, Newport. Details. 
GULF STREAM BAR & GRILLE
Located next to Portsmouth's New England Boatworks, this new hotspot features coastal cooking with a New England twist with harbor views. 1 Lagoon Road, Portsmouth. Details.
LORUSSO'S + STONEACRE PANTRY COLLABORATION
Lorusso's has partnered with Stoneacre Pantry to add a dinner menu featuring Italian fare from Italy's "heel," famous for natural, wholesome, olive-oil based dishes with vibrant produce and fresh fish. BYOB or use the in-house iPad to order from neighboring Wellington Liquors for tableside delivery. Details.
PICNIC GOURMET + CAFE
Epicurean bakery and café offering gourmet lunch, picnic provisions, catering and take out for breakfast, lunch and dinner. International cheeses, cured meats smoked fish, etc. plus a European-style coffee menu. 26-28 Bellevue Avenue, Newport. Details.
PREPPY PIG BBQ
Located in Warren, this restaurant is the brick and mortar rendition of the well-established Preppy Pig mobile caterer. Savor ribs, brisket, smoked chicken wings and more, plus sides with a twist including mac and cheese, corn bread, pickled vegetables and coleslaw. A second location at 35 Narragansett Avenue in Jamestown is expected to open later this summer. 632 Metacom Avenue, Warren. Details.
RHODE ISLAND OYSTER TRAIL
Celebrating seafood and growers in the Ocean State, the newly launched RI Oyster Trail connects shellfish lovers year-round to Rhode Island grown oysters as well as the farmers and the restaurants that serve them. Details.
STATESMAN TAVERN
Located in Bristol, this homage to the classic American tavern serves wholesome food with ingredients provided by area farmers and fishermen including heirloom vegetables and grains paired with responsibly raised meat, poultry and fresh caught fish. Craft cocktails include fresh juices, homemade bitters and syrups. 31 State Street, Bristol. Details.
VINEYARD CAFE
The new café at Newport Vineyards boasts a locally-sourced menu featuring farm-focused dishes including ingredients from Aquidneck Farms and Simmons Farm and more, plus a wine and a craft beer bar. Open Tuesday - Saturday, 11:00 AM - 5:00 PM. 909 E. Main Road, Middletown. Details.
WINNER WINNER
In the former location and by same owners of the lauded TSK, this restaurant serves fried and rotisserie chicken and a variety of comfort-food side dishes like TSK's Southern-style biscuits. (Fried chicken made from the much loved TSK recipe!) Children's menu available. 677 Thames Street, Newport. Details.