Memorial Day weekend marks the unofficial start of summer on The Classic Coast. Rooftop bars, al fresco patios, seaside lawns and outdoor attractions reawaken and reopen just as the warmer weather breathes new life into our stunning coastal enclave. But that's just the start. From harbor cruises and wine tastings to special deals and the perfect places to soak up the sun, MDW is on. Are you in? 
COVID-19 NOTE:
When you're ready, we can't wait to welcome you back to The Classic Coast. Rest assured, the safety and well-being of both visitors and locals remains our top priority. The mask mandate requiring face coverings in Rhode Island has been lifted, however local businesses may ask you to wear a mask when visiting their establishments. Please be prepared for individual business mask policies. Additionally, shops, attractions and tours are monitoring the number of guests at any given time and may ask you to socially distance to enter. 
All we ask when you land on these shores is that you play your part in keeping everyone safe. Please be kind, adhere to guidelines and maintain social distancing. 
A TASTE OF SUMMER
Call us biased but we think summer in Newport is synonymous with heaven on earth. Where do we even begin? 
1
BRUNCH ON A BOAT
Rise and shine, you're in Newport! Start your day with an invigorating Morning Mimosa Sail aboard Adirondack II, an elegant, 80-foot, turn-of-the-century-style pilot schooner. Feel free to bring brunch to compliment perfectly poured mimosas.
2
DINE & SAIL
Enjoy a two-hour harbor cruise with 12 Meter Charters followed by dinner at Newport's iconic Clarke Cooke House. For a true taste of summer, opt for oysters on the half shell while enjoying CCH's harbor view.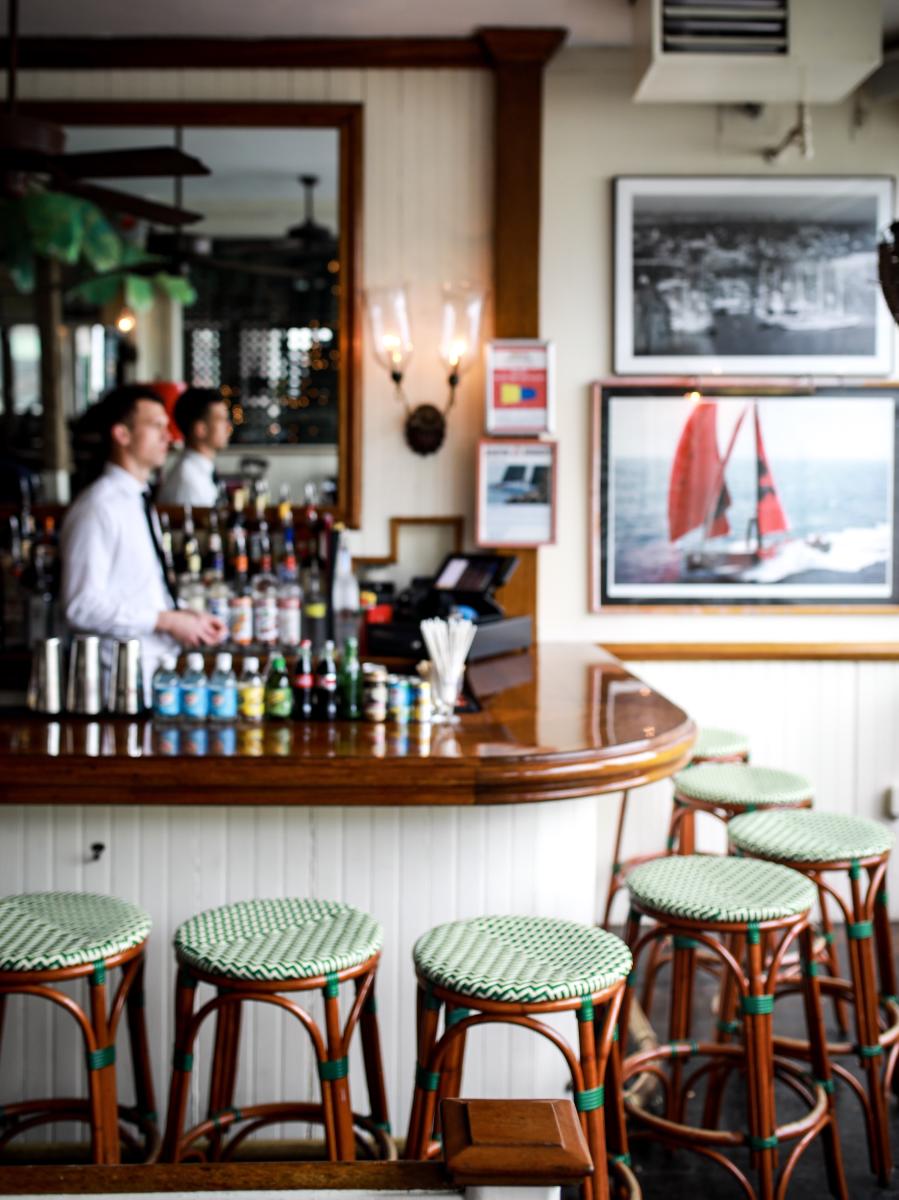 3
RIDE THE RAILS
Rail Explorers offers a unique scenic ride along historic Aquidneck Island and Narragansett Bay on custom built pedal-powered vehicles. This eco-friendly business offers a 6-mile waterfront journey along existing railroad tracks.
4
Iconic Icream Shops
From classic flavors to funky experiments, your sugary, summery bliss starts right here. 
ROOFTOP BARS AND OUTDOOR PATIOS
Harbor side rooftop bars and patios, that Atlantic-drying-on-your-skin feeling after a perfect day at the beach. Classic. 
1
PORTSIDE AT 22 BOWEN'S
This open-air, harbor-side bar located next to 22 Bowen's serves seasonal cocktails and culinary noshes overlooking the harbor on Bowen's Wharf. Snag a seat at the bar or a stool overlooking the water and enjoy the salt air.
Portside is open for the season weather permitting.
2
THE LAWN AT CASTLE HILL INN
This seaside lawn spotted with Adirondack chairs overlooking the bay at Castle Hill Inn is a Newport icon. Offering panoramic seaside views, classic New England fare and warm-weather cocktails, you might find it hard to leave.
ADIRONDACK CHAIR SERVICE
Walk-Up Beverage Service: 11:30am - 6:30pm daily, weather permitting. Seating is first-come first-serve. Note: There is a capacity limit that is often reached on weekends, so visitors are advised to have backup plans. Service for the chairs is walk-up only, and does not include food options – only beverages.
3
THE CAFE AT THE CHANLER
This dreamy outdoor patio at The Chanler overlooks the Atlantic Ocean and offers a robust menu of Mediterranean-inspired classic New England fare for lunch and dinner. Not to mention, a sunset-inspired palette, sculptural furniture, and soft flowing draped fabric panels commissioned from a local sail-maker set the stage for an ethereal experience.
The Cafe is open for the season weather permitting.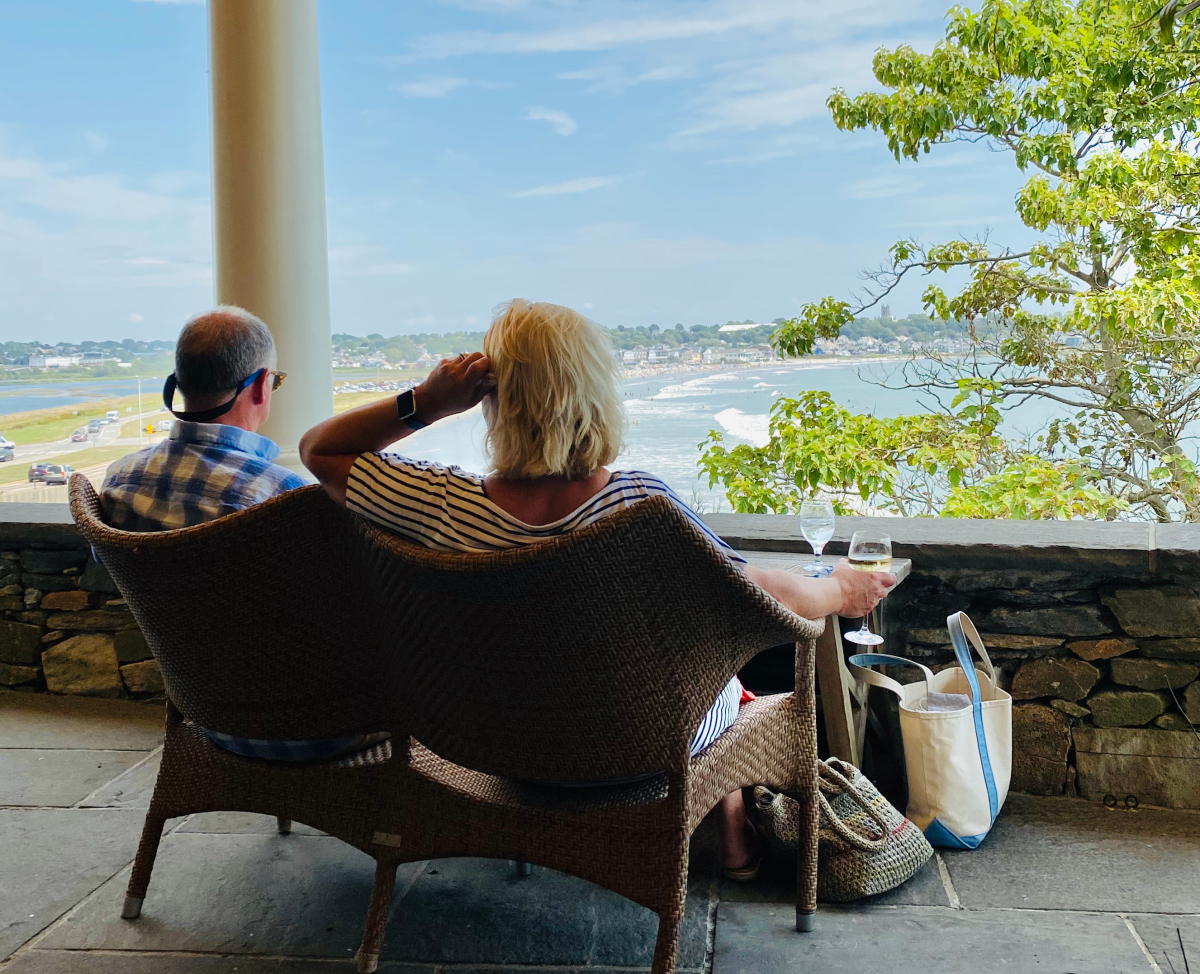 4
THE ROOF DECK AT THE VANDERBILT
Savor a glass of champagne or a specialty cocktail with a classic Newport sunset and the harbor as your backdrop. Situated in the heart of downtown, you'll have gorgeous views of Newport's bustling neighborhoods and the iconic Newport bridge. 
The roof deck is open for the season weather permitting. There is no food service, only beverages.
5
TOP OF NEWPORT ROOFTOP BAR
Hotel Viking's rooftop kitchen and bar offers a full menu complete with local and traditional cuisine alongside a full bar. Dine at tables, lounge on couches or sit along the newly expanded bar, all with unparalleled views of the neighborhood's tree-lined streets.
Top of Newport is open for the season weather permitting.
6
STONEACRE GARDEN
Make your way through the open garage doors at Stoneacre Garden, past the collection of eccentric furnishings, and up to the rooftop bar overlooking America's Cup Avenue. Located in Swineburne Row, this extension of sister restaurant Stoneacre Brasserie features a cheerful yellow and red awning reminiscent of a circus tent from days gone by. Your whimsical al fresco experience comes adorned in lush greenery hung from the outdoor awning.
7
SKIFF BAR AT NEWPORT MARRIOTT
8
MIDTOWN OYSTER BAR
A Newport classic, Midtown Oyster Bar is the area's largest working raw bar with two bars, two decks, a marble raw bar and oyster stout on draft. The atmosphere here is Colonial casual: high-ceilings, dim lighting and massive slabs of wood fixed above community tables.
The restaurant spans three floors, each with its own vibe and collection of nautical trinkets adorning the walls. The second and third floor are where you'll catch the restaurant's al fresco dining.
9
THE PAVILION BAR AT FORTY 1 NORTH
Located directly on the harbor, the Pavilion at Forty 1 North is a modern outdoor bar overlooking the iconic Newport Bridge and offering a scenic locale to savor classic fare or lounge on area sofas and arm chairs. Soak in the sights while sipping a signature cocktail. 
The Pavilion Bar is open for the season weather permitting.
10
THE ROOFTOP AT BRENTON HOTEL
Located on the waterfront in downtown Newport, Brenton Hotel is one of Newport's newest hotels. Make your way to the rooftop for unobstructed views of Newport Harbor overlooking Perotti Park, alongside lush greenery and plush seating. 
Click here for more rooftops and outdoor patios.
Can't Miss Events
These weekend events are just what you need to celebrate the unofficial start of summer. 
1
Boots on the Ground for Heroes Memorial
Where:

Fort Adams State Park

When:

Friday, May 27 - Monday, May 30

Cost:

Admission is free for all attendees
The Boots on the Ground for Heroes Memorial will be displayed at Fort Adams in Newport over Memorial Day Weekend May 27th – 30th, 2022. Hours are Friday, Saturday, and Sunday 8am - 8pm, and Monday 8am - 6pm. Saturday May 28th from 5-6PM: Patriotic Concert featuring the 88th Army Band, Rhode Island National Guard. Admission is free for all attendees.
2
Rogue Island Comedy Festival
Where:

Jane Pickens Theater, Wayfinder Hotel, Reef Newport and Top of Pelham

When:

Thursday, May 26 - Monday, May 30

Cost:

All shows are $30, tickets sold online only
The Spring Rogue Island Comedy Festival features thirteen stand-up comedy shows over five nights, Thursday May 26 - Monday May 30 in Newport! Featured comics include Yannis Pappas (Comedy Central, Joe Rogan Experience), Sam Tallent (Comedy Central), Ian Lara (Comedy Central), Jenny Zigrino (Comedy Central), Gianmarco Soresi (Netflix), Alingon Mitra (TikTok) and and over 50 more local and national comedians!
3
Ca' del Bosco Wine Garden
Where:

The Chanler at Cliff Walk

When:

Saturday, May 28th & Sunday, May 29th
Ca' del Bosco and The Chanler have come together for an enchanting collaboration showcasing Italian renaissance charm and seaside beauty.

A family of internationally renowned luxury sparkling wines from, Erbusco, Franciacorta, and Annamaria Clementi Zanella are presented at The Chanler's lush meadow lawn with sweeping views of the Atlantic. Sit back and relax with local oysters, a gourmet picnic box, or simply take your time sipping on the decadent wine selection.
4
Yoga Brunch @ The Reef
Where:

The Reef Restaurant

When:

Sunday, May 29th at 9:00 AM

Cost:

$50
Join Jessica Laudati & The Reef for a relaxing start to your weekend!
Beginning at 9am, Jessica will be instructing a 1-hour yoga class in the Harborside room. Enjoy the breeze of the harbor while relaxing your body & mind. Following class will be a delicious brunch with your choice of mimosa, bloody mary or green juice / smoothie.
5
Summer Kick-Off @ Dockside
Where:

Dockside

When:

Sunday, May 29th at 8:00 PM
Come rock out with us at the Dockside located right on the water and enjoy the finest music and nightlife in Newport.
6
Transport Back To The 18th Century
Where:

Coggeshall Farm, Bristol

When:

May 28 - May 30, 2022 from 10:00 am – 4:00 pm

Cost:

$10 Adult, $5 Youth
Explore 18th-century farm life in Rhode Island at Coggeshall Farm in Bristol, where history comes to life. Set on 48 acres of coastal farmland, you'll roll up your sleeves and experience the daily life of a tenant farmer while guided by live interpreters in costume. Think: blacksmithing, tinsmithing, maple sugaring, animal husbandry, making textiles and pottery, raising crops and homemaking. You'll even help cook a meal over the hearth to enjoy by candlelight.
EXPERIENCES
From world-class museums to enchanting wineries and breweries, these local, one-of-a-kind experiences are everything you need to get summer started on the right note. 
GET SOCIAL
Tag your photos #TheClassicCoast for the chance to be featured on our accounts.