Newport is considered one of the most walkable cities in the U.S. From some of the most historic sites in the country to panoramic ocean views and architecture that will absolutely take your breath away, you're going to want to get up close and personal with this Classic Coast of ours. 
Below are our favorite walking tours throughout the city to do just that.
COVID-19 NOTE:
When you're ready, we can't wait to welcome you back to The Classic Coast. Rest assured, the safety and well-being of both visitors and locals remains our top priority. The mask mandate requiring face coverings in Rhode Island has been lifted, however local businesses may ask you to wear a mask when visiting their establishments. Please be prepared for individual business mask policies. Additionally, shops, attractions and tours are monitoring the number of guests at any given time and may ask you to socially distance to enter. 
All we ask when you land on these shores is that you play your part in keeping everyone safe. Please be kind, adhere to guidelines and maintain social distancing. 
FOR HISTORY BUFFS
 
Historic walking tours throughout the city are offered June through October by the Newport Historical Society. All tours depart from The Brick Market Museum & Shop and last approximately 75 minutes. Arrive early and head inside the award-winning museum housed in the 1763 Brick Market for an engaging introduction to Newport's rich history. 
Travel between streets and centuries on one of five different walking tours. Topics and time periods vary and include everything from stories of religious diversity during Newport's colonial period, to Newport's role in the American Revolution, to learning where scoundrels lived, pirates profited and criminals were punished.

Admission: $15 Adult, $10 Newport Historical Society Members & Military, $5 Children from 5-12
Duration: 75 minutes
 
From Newport's colonial Golden Age to Gilded Age summer colony, discover the transformation of the…
See where scoundrels lived, pirates profited and criminals were punished. Find out why this colony…
Riots and rebellions, enemies and allies! Learn about Newport's role in the American Revolution…
Visit newporthistorytours.org for more details and to purchase tickets.
​Please note: This tour will resume in 2022
Newport's various sectors of religious history come together during Four Enduring Faiths, Four Remarkable Landmarks, a walking tour of the city's four historic houses of worship. Begin your journey at Touro Synagogue, the oldest synagogue building still standing in the United States, then make your way to Trinity Church, Rhode Island's oldest Episcopal congregation, and  home to the only center-aisle, freestanding, triple-decked pulpit left in America today. Afterwards, visit Newport Congregational Church where you'll learn about John LaFarge and his contribution to the church's opalescent stained glass windows, followed by a visit to Saint Mary's Church, Rhode Island's oldest Catholic Parish and the place where Jacqueline Bouvier and John F. Kennedy were married.
When: Third Monday of the month through September.
Admission: $20 adults; $15 seniors, $10 students
Duration: 2.5 hours (30 minutes walking)
Departs: Touro Synagogue
FOR FOODIES
 
Make your way through historic neighborhoods and culinary hot spots during the Newport Neighborhood Food Tour. This 1.3-mile walking tour offers tastings from local, award-winning restaurants including Mission, a burger joint known for the best burger in Rhode Island; Perro Salado, a local Mexican restaurant located in a historic house; Stoneacre Brasserie, focused on sustainable, farm to table offerings; Nitro Bar, known for killer coffee and unique savory bites; Liberty Donuts, serving up fresh, handmade donuts and more. 
When: Thursdays - Sundays; April - December
Admission: $69 per person, $84 with alcohol 
Duration: 3 - 3.5 hours
Departs: The intersection of Marlborough and Dr. Marcus Wheatland Blvd.
Newport Foodies Stroll offers a 1.5-mile guided walking food tour through Lower Thames Street. Learn about the city's rich history while savoring classic cuisine from five local restaurants. Tasting locations include Harry's Bar + Burger, Winner Winner, O'Brien's Pub, Karma Pizza Co. and Cold Fusion Gelato.

When: Wednesdays - Saturdays; April - November
Admission: $73
Duration: 2.5 - 3 hours
Departs: 365 Thames Street
Newport Winter Foodies Stroll offers a .75-mile guided walking food tour through Newport's historic Thames Street. Learn about the city's rich history while savoring classic cuisine from three local restaurants. You'll receive a three-course meal accompanied by selected wine pairings. Tasting locations include Bar and Board Bistro, Midtown Oyster Bar and TSK Thames Street Kitchen.
When: December 3 + 4; December 10 + 11; Fridays + Saturdays, February - March
Admission: $95
Duration: 2.5 - 3 hours
Departs: 365 Thames Street
FOR A THRILL
Take a lantern-led evening stroll through historic, shadowy lanes and discover the ghosts, ghouls and legends of this haunted city. Tours depart nightly rain or shine.
When: Nightly through October, 8:00 PM, Saturdays in November, 5:00 PM
Admission: $17 adults; $16 seniors; $10 children
Duration: 90 minutes
Departs: Next to Skiff Bar on the 2nd floor of the Newport Marriott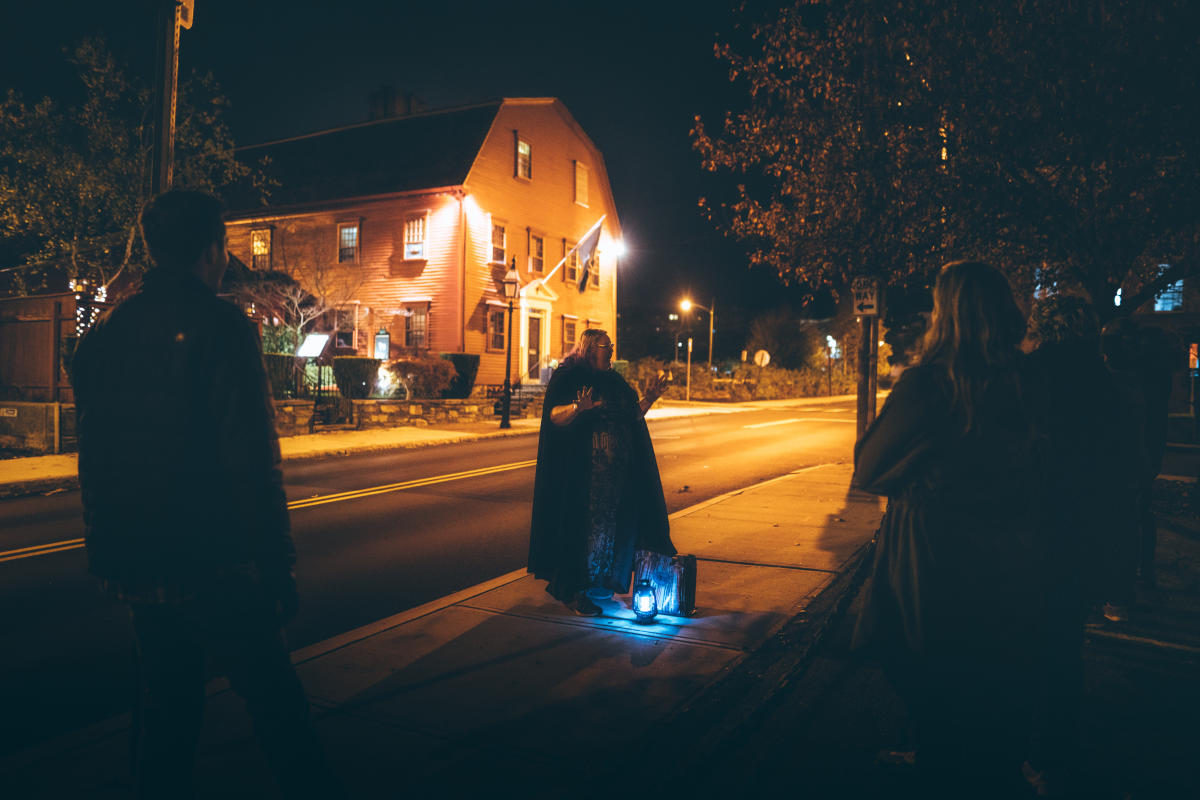 GET SOCIAL
Tag your photos #TheClassicCoast for the chance to be featured on our accounts.