There's visions of candied apples and painted pumpkins dancing in our heads as we make our way into October. This month brings so much to do, from a festive round up of fairs and festivals (hint hint: the Bowen's Wharf Seafood Festival, a comedy festival and the Broadway Street Fair) to a lengthy list of things you need to check off your epic autumn bucket list, like haunted trails in the underground tunnels of a historic military fort, ghost tours, paranormal activity hunts, pumpkin parties and more.
We'll just be right here swooning over all things Autumn in New England. Our picks for the month below. 
BUSKING AT BOWEN'S WHARF
When: Through October 24, 11:00 AM - 2:00 PM
Where: Bowen's Wharf
Admission: Free
The Busking @ Bowen's Fall Series presents its fourth year of live music at Bowen's Wharf to welcome visitors and entertain local residents during the Fall season.
ROGUE ISLAND COMEDY FESTIVAL
When: Thursday, October 4 - Monday, October 8
Where: Various Locations throughout Newport
Enjoy 15 stacked shows across five nights, featuring more than 50 stand-up comics from Comedy Central, The Tonight Show, The Late Show, HBO, Netflix, SNL, CONAN and more. 
BROADWAY STREET FAIR
When: Saturday, October 6
Where: Broadway District
Admission: Free
The Broadway Street Fair begins at Equality Park and extends all along the street offering live music, food, family activities and exhibiting artists. Outdoor stages will feature local musicians, comedy, and dance. More than a dozen restaurants will show off their culinary talents, and local artisans will showcase their creativity, too.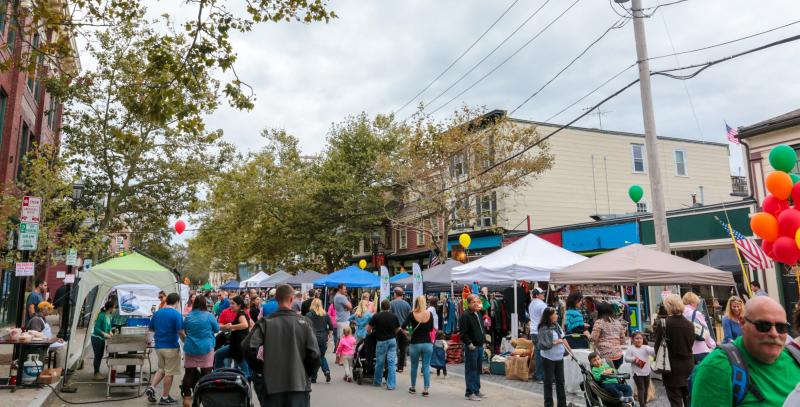 WANTON LYMAN HAZARD HOUSE OPEN HOUSE
When: Saturday, October 6, 1:00 - 3:00 PM
Where: 82 Touro Street
Admission: Free
Visit the Wanton-Lyman-Hazard House and learn about the architecture and history of the building from knowledgeable docents.
MIDTOWN OYSTER BAR'S ANNUAL PIG ROAST
When: Wednesday, October 10, 6:00 - 10:00 PM
Where: Midtown Oyster Bar
Admission: $65 per person
Head to Midtown Oyster Bar for the sixth annual Devil's Purse Brewing Company Pig Roast. Savor five courses + beer.
2018 PUMPKIN REGATTA
When: Friday, October 12, 4:30 - 7:30 PM
Where: Newport Shipyard, 1 Washington Street
Admission: $25 per person
Race across the basin in famous "pumpkins" painted to coincide with the regatta's selected charities: Warrior Sailing Program, and Women's Resource Center of Newport.
ST. JOSEPH'S HARVEST FAIR
When: Saturday, October 13, 9:30 AM - 3:00 PM
Where: St. Joseph's, 5 Mann Avenue
Admission: Free
Head to St. Joseph's for a harvest fair including baked goods, a raffle, boutique, Spanish table, silent auction, kids games and prizes, face painting and more.
TRINITY CHURCH'S ANNUAL PUMPKIN PATCH
Opening Date: Saturday, October 13
Where: Queen Anne Square
Admission: Free
Trinity Church's Annual Pumpkin Patch offers a wide selection of pumpkins, mums, decorative cabbages, gourds and more. Once you've picked all your favorites, enjoy home-made goods, freshly popped popcorn and cider. Enjoy hot lunch, live music and vendors on the weekends.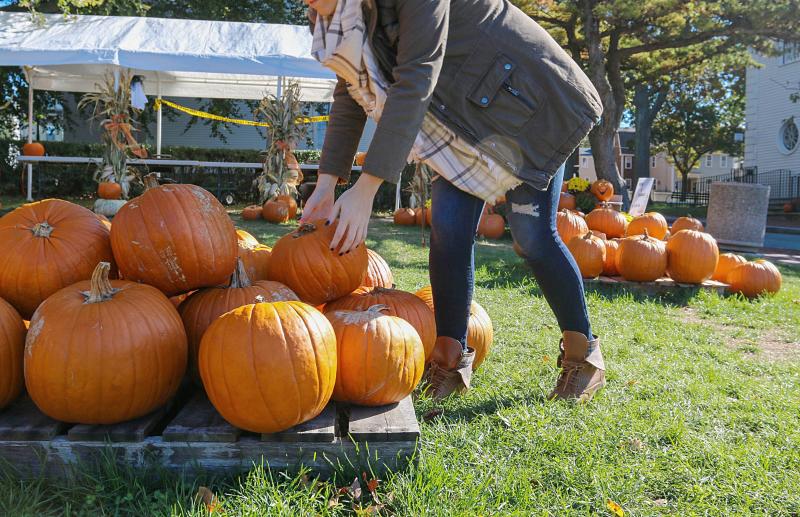 BOWEN'S WHARF SEAFOOD FESTIVAL
When: Saturday, October 13 - Sunday, October 14
Where: Bowen's Wharf, Newport
Honoring the harvest of the sea, this Festival offers fresh local seafood, continuous live music and family fun. Cafe-style seating is set up throughout the Wharf and proceeds from festival bars benefit Oliver Hazard Perry, RI's 200-foot official sailing education vessel which will be at Bowen's Wharf Marina and available for ship visits.
ENDLESS SUMMER X MATT FOLEY
When: Sunday, October 14, 5:00 - 10:00 PM
Where: Forty 1 North
Endless summer comes as an new concept of social afternoon conceived to retrieve moments from the season in Newport. Gather for a chill afternoon embraced with wine, craft cocktails and great music over the sunset.
Drag Brunch for Newport LGBTQA+ Family Weekend
When: Sunday, October 21, 11:00 AM - 3:00 PM
Where: Parlor Bar & Kitchen
Admission: $40
Enjoy a family-friendly brunch with the Trailer Park Girls, New England's premier drag theatre troupe, specializing in theatrical brunches, dinner theatre and pop up performances.
FARMFEST AT MOUNT HOPE FARM
When: Saturday, October 27, 10:00 AM - 2:00 PM
Where: Mount Hope Farm
Admission: Free
Enjoy hay rides, a farmers market, animal fun, games, food, house and garden tours, Native American presentations, face painting, music, and more.
NEWPORT VINEYARD'S HARVEST FESTIVAL
When: October 27 - 28
Where: Newport Vineyards
Sip, savor and toast to the season's' crush at Newport Vineyard's second annual Harvest Festival. A day full of grape stomping, pie eating, wine tasting goodness. Enjoy live music while sipping cocktails and noshing on food from the vineyard's culinary team and local vendors. Below are some of the fun activities that are being offered:
1:00 PM & 3:00 PM: Grape Stomping
2:00 PM: Pie Eating Contest
*Grape stomping and pie eating contestants will be selected at random the day of the event. Please be present and dressed accordingly.
GET SOCIAL
Tag your photos #NPTrightnow for the chance to be featured on our accounts.